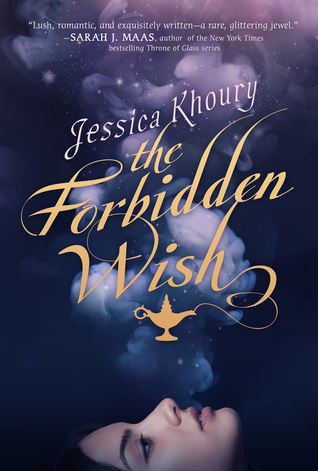 Title: The Forbidden Wish
Author: Jessica Khoury
Publisher: Razorbill
Publication Date: February 23, 2016
She is the most powerful Jinni of all. He is a boy from the streets. Their love will shake the world...

When Aladdin discovers Zahra's jinni lamp, Zahra is thrust back into a world she hasn't seen in hundreds of years -- a world where magic is forbidden and Zahra's very existence is illegal. She must disguise herself to stay alive, using ancient shape-shifting magic, until her new master has selected his three wishes.

But when the King of the Jinn offers Zahra a chance to be free of her lamp forever, she seizes the opportunity—only to discover she is falling in love with Aladdin. When saving herself means betraying him, Zahra must decide once and for all: is winning her freedom worth losing her heart?

As time unravels and her enemies close in, Zahra finds herself suspended between danger and desire in this dazzling retelling of Aladdin from acclaimed author Jessica Khoury.
My Review
When I first saw the synopsis for The Forbidden Wish by Jessica Khoury, I'll admit that I was a little skeptical. First of all, fantasy and I aren't the best of friends. For me, a fantasy book has to be done so well that I can really imagine everything. Plus there were already so many Arabian Nights retellings published or on deck to be published, so I was unsure of how the world would react to yet another one. On the other hand, this book was written by Jessica Khoury, an author I'd previously read and enjoyed. I knew I'd find my way to it. Flash forward a few months, and this is the only 1001 Nights retelling that I've read, despite my excitement for the other ones, and now that I've read it, I'm excited to see what other ones are out there. But before I get carried away, let's get to The Forbidden Wish.

Zahra, a very powerful jinni, has been trapped in a ruined city for five hundred years after destroying her friend, Queen Roshana, and the city of Neruby. All of that changes when a young thief named Aladdin finds his way to Neruby's ruins, finds the lamp, and takes it, and Zahra to the land above - a land she has not seen in hundreds of years. Once Aladdin releases Zahra, he realizes what she is, and over time, he starts to realize just who she is and her importance to history. Over the course of a few months, the two grow close and become friends, but something more is brewing - something all too familiar to Zahra that could get Aladdin and Zahra killed.
From the moment that I started reading
The Forbidden Wish
, I was truly captivated. Even though this book is unlike her other books, Jessica Khoury's writing just grabs the reader, and they are in it for the long haul. She provides the perfect amount of background information for readers who are unfamiliar with Arabian Nights, jinnis, and Arabian culture by including excerpts from
Song of the Fall of Roshana, Last Queen of Neruby
by Parys zai Moura, and she uses this to weave together a beautiful retelling that will give readers all the feels. It was interesting to see just what she took from
Song of the Fall of Roshana
and how she changed it to create such a beautiful story. The plot is entertaining, but it's also one that's rich in history and mythology.
I also enjoyed the way that
The Forbidden Wish
was narrated. Instead of Zahra just narrating the tale for the readers, she's telling it to an old friend. Throughout the book, Zahra uses pronouns like "you" and "your," which clearly means that she's telling this story to someone specific, someone who readers will find out was once very important to Zahra. While much of the book reads like it's in third person, the personal touches and pronouns really take
The Forbidden Wish
to the next level. I just felt like Zahra talking to an old friend made for such a special and personable book.
The characters in
The Forbidden Wish
are just as fierce as the book. I've already discussed Zahra a little bit, but I haven't really gotten to her. She's a flawed character that I think many readers will relate to, but she's also so strong, especially after being trapped against her will more than a few times. It's a wonder to see her evolve from a slave of the lamp to a true hero. There's also Aladdin. Keep in mind that he's not like the Disney version most people are used to. Yes, he's a thief, but Khoury explores his dark past, and it's heartbreaking to read about. I really admired him. He's had to overcome so much since a young age, and his spirit still hasn't been broken. He still has hope that he can change things in his life for the better. There's also a princess in this tale, and her name is Caspida. She's the next in line to rule Parthenia, and she's engaged to her cousin, Prince Darian. She's a little bad ass, and I loved her strength and firepower. She's definitely going to be a role model for the female readers of this book, as are her Watchmaidens. It's truly interesting to see just how all of these characters come together for the best of everyone.
So if you're looking for a diverse read that's full of magic, remarkable characters, and a hella imaginative plot this winter, look no further than Jessica Khoury's
The Forbidden Wish
. It has everything that YA readers love and a little more. I'd recommend this for fans of retellings, but I'd also recommend this for readers who enjoy fairy tales and books about magic or forbidden lore.
The Forbidden Wish
is a beautiful retelling that will be treasured for readers for years to come.
Jessica Khoury holds a BA in English from Toccoa Falls College. When not writing, she spends her time on the soccer pitch or traveling the world. She lives in Easley, South Carolina with her husband and two dogs. Jessica is the author of Origin, Vitro, and Kalahari.