Soundtrack Saturday is a meme created and hosted by me, right here on my blog, The Hardcover Lover!
So what exactly is Soundtrack Saturday? Well, first of all, it's a book meme that combines book and music. Each Saturday, I choose a book that I've read (either recently or from years and years ago), and I create a playlist or soundtrack for it.
I'm inviting all interested book bloggers to participate in this meme! Each week, I'll be posting a linky at the bottom of my post so that you can share your Soundtrack Saturday playlist for other bloggers and blog readers to find.
As with all bookish memes, there are a few easy steps to follow to help you create your own perfect Soundtrack Saturday post:
Choose a book that you've read or are currently reading - any book is fine!
Create a mini (four songs) or full soundtrack (ten-fifteen + songs) for that book based on characters and plot details

For more detailed instructions on how to create your own playlist, please visit the meme's homepage. (You could also click the link in my navigation bar!)

Please credit me somewhere in your post. It can be as simple as "Soundtrack Saturday is a weekly meme that was created by Erin at The Hardcover Lover."
Leave a comment on my blog post if you enjoy the feature
Add your name to the link-up tool at the bottom of the post
I Was Here is Gayle Forman's most recent YA novel. It's about two friends - Cody and Meg - who were inseparable as possible until the unthinkable happens. After Meg commits suicide, Cody travels to Meg's college town to bring home the rest of her belongings. What she discovers while she's there will change everything that Cody ever thought about Meg's death and take her on a journey that will change her own life.
Like Forman's previous novels, If I Stay and Where She Went, I Was Here is very music-friendly because Forman refers to many songs and bands. Forman literally provided an entire playlist in the first few chapters, and I knew that I was going to love this book just because of the music. After reading I Was Here, I knew that I had to fill in the missing pieces and finish this playlist for Meg and Cody.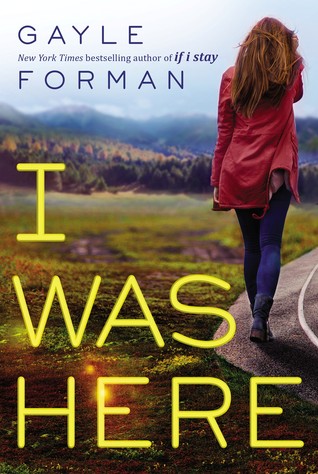 1. "Firefly" by Heavens to Betsy
2. " A Little Bit Stronger" by Leighton Meester
3. "Wading in the Velvet Sea" by Phish
4. "Fireflies" by Owl City
5. "Lumina" by Joan Osborne
6. "Weight of Love" by The Black Keys
7. "Fireflies" by Faith Hill
9. "Cat Scratch Fever" by Ted Nugent
9. "Goody Two Shoes" by Adam Ant
10. "I Feel Like Going Home" by Charlie Rich
11. "Sweet Child O' Mine" by Guns and Roses
12. "Home" by Phillip Phillips
13. "Set Fire to the Rain" by Adele
14. "Broken Dove" by The Clarks
15. "Fireflies" by Bishop Allen
16. "I Was Here" by Lady Antebellum
So there's mine and Gayle's picks for
I Was Here
. I really hope you enjoyed the playlist. If you've read the book, I'm sure you'll understand why a lot of those songs are there, and I really hope you enjoy the additions that I've added.
If you created a playlist this week, feel free to link up below!