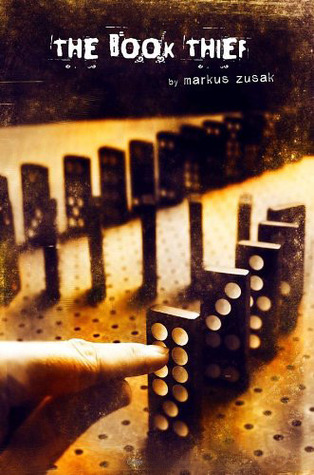 Title: The Book Thief
Author: Markus Zusak
Publisher: Knopf Books for Young Readers
Publication Date: March 14, 2006
Source: Purchased
It's just a small story really, about among other things: a girl, some words, an accordionist, some fanatical Germans, a Jewish fist-fighter, and quite a lot of thievery. . . .

Set during World War II in Germany, Markus Zusak's groundbreaking new novel is the story of Liesel Meminger, a foster girl living outside of Munich. Liesel scratches out a meager existence for herself by stealing when she encounters something she can't resist–books. With the help of her accordion-playing foster father, she learns to read and shares her stolen books with her neighbors during bombing raids as well as with the Jewish man hidden in her basement before he is marched to Dachau.

This is an unforgettable story about the ability of books to feed the soul.
My Review
There's something you should know before you read the rest of this review. I was supposed to read this for my Young Adult Literature class in college. I attempted it. I wasn't finding myself enjoying it, so I skipped it to do other classwork. I will tell you that it was the dumbest decision of my life. Then I tried reading it again after coming home from that year of school. I still couldn't get into it. I felt like a black sheep. Everyone from class loved it. Why couldn't I get into it? Was there something wrong with me?
A few years later, I picked The Book Thief up again, but this time, I was determined to finish it. I wasn't going to let it sit there and collect dust. I'm so glad that I gave this book a third chance because it ended up being one of my favorite books ever.
The first thing I noticed about the book (each time I tried to read it) is how Zusak purposefully spoils his readers. I didn't think too much about it like many of my peers did. In fact, I liked it that way. I actually liked knowing what was going to happen. Besides, don't we all know we're going to die anyway? I thought that I would be mentally prepared for what would happen and that I wouldn't be a puddle of tears by the time I finished this book. I was wrong. I cried like a baby.
Another thing I noticed about Zusak's book was the stunning characters from all different walks of life that had so many different layers to them. For some reason, there was something different about the way that Zusak wrote them, and I found myself wanting to know more. As I was reading, I didn't become too attached to any of the characters in particular, but somehow, I was captivated by their intertwining stories. After I closed the book, something magical happened. The personal connection to all of the characters appeared out of nowhere. It was like I had finally peeled back all of their layers and could see them for exactly who they were. It was a beautiful moment. I felt like every single character in this book had touched my life. I just needed to know everything for it to happen.
It's not every day that I come across a piece of Holocaust literature that's about Germans, but I'm extremely grateful that Zusak told Liesel's story. The story of the Germans who were alive during World War II is beautifully told, and it really made me think about what life must have been like for the many innocent Germans during the time of WWII. It got me thinking about what life was like for the German citizens who risked everything to protect their Jewish brothers and sisters. I thought about many things that I never thought about while in a social studies class. This book really opened up my eyes to many of the topics that we miss out on in school.
I also felt a personal connection to this book because of my heritage. I've known my whole life that I am part German, and really, there is no hiding it. I have a German last name, and let's just say that my blonde hair and light blue eyes don't conceal it. I was always self-conscious about it when we learned about World War II and The Holocaust, especially when a Holocaust survivor came to speak to our eighth grade class (and because a teacher made an example of me for being Aryan once). After reading The Book Theif, I wandered if I still had family in Germany during WWII. Did they try to help anyone, or did they just watch as Hitler and the Nazis destroyed Europe? I'll never know the answers to those questions, but I know what I would have done if I were in Liesel's shoes.
Now... let's get back to the part where I talk about the novel. I love that this book is told from Death's point of view. It was a unique experience for me, and I enjoyed reading the story as an outsider. That's what made me feel more secure in knowing that I wouldn't be a mess when the characters died. (Spoiler alert... I was a mess!) Some deaths hit me harder than others, but in the end, I was heartbroken. I don't want to spoil much, but I loved the ending of The Book Thief. It was emotional and bittersweet, and I feel like I got exactly what I wanted out of this book.
The Book Thief by Markus Zusak is a book that will stick with me until the day that I die. It's beautifully written, but it's so much more than that. It's a book that weaves together so many different lives. It's a book about a time in history that we must not forget. But it's also a book that makes readers think, and that it the best kind of book out there. I'm glad that I read this book, not only because I have a tendency to steal books from places like doctor's offices, but because I feel better as a person because I've read it. I've learned more than I thought I could, and I can only hope that others can as well.


Markus Zusak was born in 1975 and is the author of five books, including the international bestseller, The Book Thief , which is translated into more than forty languages. First released in 2005, The Book Thief has spent a total of 375 weeks on the New York Times bestseller list. Markus Zusak grew up in Sydney, Australia, and still lives there with his wife and two children.