I love books, and I love music. But I love it when the two are paired up, so I thought I'd create a feature to highlight two of my favorite things in the world!
Soundtrack Saturday is a meme created and hosted by me, right here on The Hardcover Lover! So what is Soundtrack Saturday? It's a feature about bookish playlists! Each Saturday, I choose a book and post a playlist based on it! But that's not all. You can participate, too! I'm inviting all interested book bloggers to participate in this meme! Each week, I'll be posting a linky at the bottom of my post so that you can share your Soundtrack Saturday playlist for other bloggers and blog readers to find.
As with all bookish memes, there are a few easy steps to follow to help you create your own perfect Soundtrack Saturday post:
Choose a book that you've read or are currently reading - any book is fine as long as you can create a playlist for it
Create a full (10+songs) or a mini (four songs) playlist for the book of your choosing

For more detailed instructions on the different types of soundtracks and how to make them, please visit the meme's homepage.

Please credit me somewhere in your post. It can be as simple as "Soundtrack Saturday is a weekly meme that was created by Erin at The Hardcover Lover."
Leave a comment on my blog post if you enjoy the feature
Add your name to the link-up tool at the bottom of the post
The Wicked Will Rise
The Wicked Will Rise is the second book in Danielle Paige's reimagination of Oz series, Dorothy Must Die. In this book, Amy is dealing with the aftermath of what happened and what didn't happen in Dorothy Must Die. She's searching Oz for the rest of the Order and trying to protect Princess Ozma. What's a girl to do? Oh, that's right... stay on task and try to kill Dorothy Gale.
I was still feeling the punk and rock feel that I got from Dorothy Must Die, so you'll see a lot of songs from those genres in this week's playlist as well. I really hope that you enjoy what I've put together for you this week.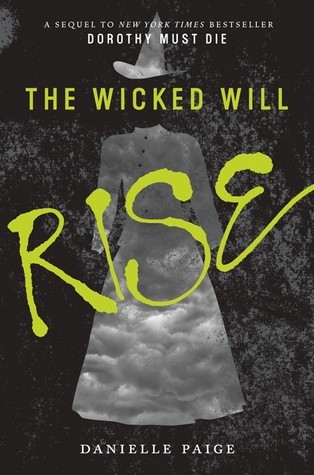 1. "Dark Side" by Kelly Clarkson
2. "Rumour Has It" by Adele
3. "Out of the Woods" by Taylor Swift
4. "Believer" by American Authors
5. "99 Bottles of Beer on the Wall"
6. "Fairytale Lullaby" by Bombay Bicycle Club
7. "Burning Gold" by Christina Perri
8. "Golden Ring" by George Jones and Tammy Wynette
9. "Burnin' Sky" by Bad Company
10. "Set Fire to the Rain" by Adele
11. "Bad Blood" by Taylor Swift
12. "Home on the Range"
There's my playlist for
The Wicked Will Rise
by Danielle Paige. I added some rock, but this time around, I even added a little pop rock where the songs fit the actions in the novel. I hope you all enjoy it.
Oh, and if you're participating in Soundtrack Saturday this week, don't forget to link up below! I'd love to see what books you're reading and what songs you're listening to along the way!