The 2015 Summer Blogger Promo Tour is hosted by Amber and Jessica from the wonderful blog, The Book Bratz. It's a blog tour, but instead of promoting authors and books, we're promoting our fellow book bloggers!
This week, I'm featuring twin bloggers and authors Sarena and Sasha from
The Writing Duo
. Some of you may have even read their book.
But for now, get to know Sasha and Sarena by learning about some of their favorite literary twins.
Sarena and Sasha's Favorite Literary Twins
Our Favourite Literary Twins!
Being twin sisters, we love reading books featuring other twins—especially those like us! So today, we're sharing our favourite twins in books! Here they are:

1. Parvati and Padma Patil from Harry Potter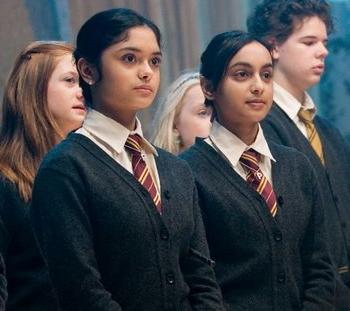 What's better than twins who can do magic?! Plus they're Indian, just like us! We dressed up as them for Halloween once because they're just so awesome :D
2.
Samneric (Sam and Eric) from Lord of the Flies
Sasha read and loved Lord of the Flies—especially the twins Sam and Eric! They were so close that people combined their names to save time, hence "Samneric."
3.
Sutton and Emma from The Lying Game
Sasha loves anything Sara Shepard, and The Lying Game series has a ton of mystery and suspense—plus, twins! Technically the novel is told from the perspective of one of the twins, who was murdered (what?!?) but you can't help follow along with the deceit and excitement of The Lying Game!
4.
Sara and Sonya from the Shatter Me Trilogy
Again, twins with superpowers – yes! They have healing powers and are therefore super cool. (If only we had superpowers!)
5.
Fred and George Weasley from Harry Potter
Of course, I couldn't forget these two! I won't give away any spoilers for those who haven't watched/seen Harry Potter … but we love this dynamic duo! They're so funny and pull tons of pranks—basically as great as twins get. (Also, they tried to fool their mother on platform 9 and ¾ -- but that probably wouldn't work for us. We're not identical) :P
I hope you had fun learning about Sarena and Sasha's favorite literary twins! I know I did (but some of you might already know that I'm a sucker for books with twins). Be sure to stop by The Writing Duo today to see which fabulous blogger they are featuring.