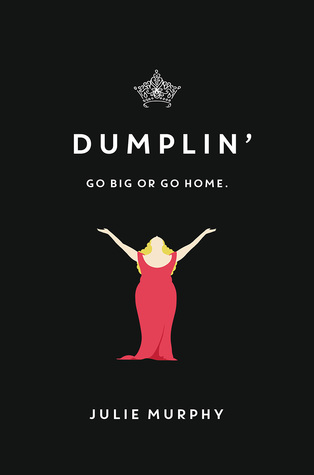 Title: Dumplin'
Author: Julie Murphy
Publisher: Balzer + Bray
Publication Date: September 15, 2015
Source: Books for Trade from Ashley
Self-proclaimed fat girl Willowdean Dickson (dubbed "Dumplin'" by her former beauty queen mom) has always been at home in her own skin. Her thoughts on having the ultimate bikini body? Put a bikini on your body. With her all-American beauty best friend, Ellen, by her side, things have always worked . . . until Will takes a job at Harpy's, the local fast-food joint. There she meets Private School Bo, a hot former jock. Will isn't surprised to find herself attracted to Bo. But she is surprised when he seems to like her back.

Instead of finding new heights of self-assurance in her relationship with Bo, Will starts to doubt herself. So she sets out to take back her confidence by doing the most horrifying thing she can imagine: entering the Miss Clover City beauty pageant—along with several other unlikely candidates—to show the world that she deserves to be up there as much as any twiggy girl does. Along the way, she'll shock the hell out of Clover City—and maybe herself most of all.

With starry Texas nights, red candy suckers, Dolly Parton songs, and a wildly unforgettable heroine— Dumplin' is guaranteed to steal your heart.
Let me tell you something very important about Young Adult Literature. Sometimes, it's hard to find a book that really represents who you are as a person. Sometimes you just want to curl up with a book with a character who is a lot like you, but you can't because they don't exist on page.
I'm so glad that more and more people are changing this. The YA game is changing, and just in the past year, I've found two overweight characters who I've loved. Willowdean Dickson is one of them.
My Review
Finding a book like Dumplin' by Julie Murphy is as rare as finding a sunflower in the desert. Why? Because books like this aren't being written. But they should be. It's not every day that you'll find a fat, bad ass heroine in YA literature. Julie took something that many people shame others for, and she created a beautiful piece of literature that the world needs to read.
Why is
Dumplin'
by Julie Murphy so good? It's so good because it's so real. I don't think you're going to find a character like Willowdean Dickson again this year. She's a real girl with real issues, but she also has so much empathy and compassion for others. What do I mean? Well there's no getting around it... she's fat, but she looks at people who have it worse than she does, and she truly feels bad for them. She makes her mistakes and makes fun of people, but she admits to it being wrong. This is why Willowdean might be one of my favorite YA characters.
Before reading
Dumplin'
, I'd read Murphy's debut novel,
Side Effects May Vary
. I can honestly tell you that these two books are very different. They just have different styles, and they I loved Murphy's writing style more in
Dumplin'
. I really felt like she was able to make Willowdean relateable to so many different people. I also just loved the words that she used during the book. I have about thirty different page flags in my copy because there are so many beautiful passages. It's just written in a very heartfelt way that will reach so many different readers. It's a fun and quick read, but there's just so much to it emotionally. You'll really feel everything when you read about Will's journey. Murphy really nailed this book, and I just want to fly to Texas and give her the biggest hug ever (and I hate hugs).
The setting of the book also reflects a lot of the plot details.
Dumplin'
takes place in Clover City, Texas. From a quick Google search, I can tell that this is a fictional town, but Murphy includes so many of the beloved things about Texas (football, beauty pageants, iced tea, etc.) in Clover City that it might as well be a real town. Now I've never been to Texas, but I really felt like I would be able to go to any small town in Texas and picture myself in Clover City. The townspeople and the supporting characters just felt very real to me. It's definitely picturesque of what I imagine small town life in Texas to be.
Now that I've mentioned the characters, let's get to them. Murphy includes a plethora of supporting characters, all of whom have a great purpose in helping Willowdean, and I definitely won't have time in this review to get to all of them. Will's best friend is El, and I loved how Murphy characterized her. These two have learned a lot from one another during their friendship, and they continue to learn more throughout the book. The friendship felt extremely realistic, and El is one of those characters that readers will remember for a long, long time. Will also has her fair share of possible boyfriends in this book (yes, plural), and you know what... I loved it. The two possible boyfriends, Bo and Mitch, are very different, but still very much needed. Will sees different things in them. Bo is very unexpected for Will, and she's very unsure about everything when she's with him. On the other hand, Mitch is the expected choice because they are kind of in the same boat. He's bigger, and they seem like a more natural fit, according to the crazy standards that we have today.
So did I like this book? NO... I FREAKING LOVED THIS BOOK! I laughed. I cried. I felt every emotion with Will. I will cherish
Dumplin'
for the rest of my life because it's the book that I needed in high school. It's the book that I needed right now, in my adult life, when I still look at myself and cry over my pudgy stomach and my thunder thighs. Julie Murphy just gets it, and she makes everything feel like it's going to be okay.
Dumplin'
is a diamond. It's the world's finest diamond. Through Willowdean, Murphy is able to tell girls that it's okay to stand out but still be yourself. I'd recommend this book to absolutely everyone who's ever felt uncomfortable in his or her own skin. I'd recommend this to teens, parents of teens, librarians, teachers, or anyone who works with teens. I'd recommend this book to fans of the movie
Beautiful Girls
. (Side note: Watch that movie!) This book is a book that everyone needs to read because it will inspire you to do great things, even if those great things are just normal things that you thought you weren't capable of doing. Just look what it made me do back when I'd only read a few pages:



About Julie Murphy

Julie Murphy lives in North Texas with her husband who lover her, her dog who adores her, and her cats who tolerate her. When she's not writing or trying to catch stray animals, Julie can be found in a library smelling old books and manning the reference desk. Her acclaimed first novel is Side Effects May Vary.