Title: Vivian Apple Needs a Miracle
Series: Vivian Apple
Author: Katie Coyle
Publisher: HMH Books for Young Readers
Publication Date: September 1, 2015
Source: HMH for Review Purposes
"GET ANGRY. We should all be so pissed at the Church of America that we're willing to break our hands in the metaphorical punching of its metaphorical face." —Harpreet Janda, fugitive




The predicted Rapture by Pastor Frick's Church of America has come and gone, and three thousand Believers are now missing or dead. Seventeen-year-old Vivian Apple and her best friend, Harpreet, are revolutionaries, determined to expose the Church's diabolical power grab . . . and to locate Viv's missing heartthrob, Peter Ivey. This fast-paced, entertaining sequel to Vivian Apple at the End of the World challenges readers to consider how to live with integrity in a disintegrating world.
You've already met Vivian Apple, right? Total bad ass who is trying to take down The Church of America? Wait, what? No? Well before you even read this review, you should totally go to your favorite bookstore and pick up
Vivian Apple at the End of the World
. Not convinced yet? Read my
review
for the first book in this insanely addictive YA series.
My Review
So if you're still reading this, I'm assuming that you've already read
Vivian Apple at the End of the World
and are looking to see of the sequel is worth a read, or that you're okay with spoilers from the first book because I can't guarantee that I can't write a review for a sequel without spoiling some major events from the first book.
Vivian Apple Needs a Miracle
picks up right where
Vivian Apple at the End of the World
left off. Viv and Harp are now in San Fransisco, Viv has met her older-half sister, and she's just realized that her mother in in fact, alive. It's a lot for a seventeen-year-old to handle, but what happens next really messes with Viv and Harp. The two teenagers aren't just teenage runaways now; they are considered fugitives, and the Church will stop at nothing to find them.
So does
Vivian Apple Needs a Miracle
live up to
Vivian Apple at the End of the World
? I'd say yes! It's just as fresh and strange as the first book because The Church of America is still going strong, and it's up to Viv and Harp to stop them. There's a little bit of everything in this book - flirting, romance, familial bonds, crisis, anarchy, and death. There's also a lot of action in this book, and I could see readers of series like Veronica Roth's Divergent devouring it.
Yes! Some of your favorite characters from the first book are back. And some of your least favorite characters from the first book are back, but Coyle also introduces readers to a lot of new characters in
Vivian Apple Needs a Miracle
. There are two new groups readers will be meeting during this book, and yes... a lot of new names! I won't lie to you and say that I was able to remember all of them, but for the most part, Coyle does a good job at keeping all of the new and old characters in the book and updating readers on the events going on with them while Viv and Harp come up with a plan to take down the Church of America.
So if you're looking for something different to read this fall, reach for
Vivian Apple Needs a Miracle
or
Vivian Apple Versus America
if you're in the UK. It's definitely not a book I would have read on my own if it weren't for receiving an ARC of the first book, but its action-packed sequences and real human emotions had me hooked. I'd recommend it to anyone interested in learning about the histories of religions or fans of science fiction and dystopian novels.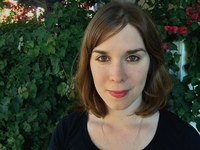 About the Author

Katie Coyle grew up in a small suburban town in New Jersey. The first story she ever wrote was about a girl with a pet dolphin - eventually the dolphin turned into a dog, and the third-person narration unceremoniously switched over to first-person. The story was never finished.

However, since then she has spent countless hours dreaming up tales about the weird and wonderful things that happen to teenage girls. She has an MFA from the University of Pittsburgh, and spends her free time buying books she doesn't need and crying at science-fiction television shows.