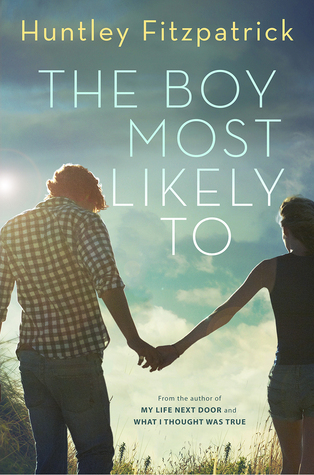 Title: The Boy Most Likely To
Companion To: My Life Next Door
Author: Huntley Fitzpatrick
Publisher: Dial Books for Young Readers
Publication Date: August 18, 2015
Surprises abound and sparks ignite in the highly anticipated, utterly romantic companion to My Life Next Door

Tim Mason was The Boy Most Likely To:
- find the liquor cabinet blindfolded
- need a liver transplant
- drive his car into a house

Alice Garrett was The Girl Most Likely To:
- well, not date her little brother's baggage-burdened best friend, for starters.

For Tim, it wouldn't be smart to fall for Alice. For Alice, nothing could be scarier than falling for Tim. But Tim has never been known for making the smart choice, and Alice is starting to wonder if the "smart" choice is always the right one. When these two crash into each other, they crash hard.

Then the unexpected consequences of Tim's wild days come back to shock him. He finds himself in a situation that isn't all it appears to be, that he never could have predicted . . . but maybe should have.

And Alice is caught in the middle.

Told in Tim's and Alice's distinctive, disarming, entirely compelling voices, this return to the world of My Life Next Door is a story about failing first, trying again, and having to decide whether to risk it all once more.
My Review
The Boy Most Likely To
by Huntley Fitzpatrick picks up after the events at the end of Huntley's debut novel,
My Life Next Door
. But don't go thinking that you're going to get just more of Sam and Jase... This novel tells a new story, the story of Tim and Alice. Fans of Huntley's previous works will be excited to see the characters from
My Life Next Door
again, but this novel definitely tells its own story that revolves around everyone's favorite bad boy, Tim, and everyone's favorite bad ass nursing student, Alice.
Like I already stated,
The Boy Most Likely To
is a different kind of story. I just never expected it to be as different as it turned out to be. Did I like it? Yes, but I never would have thought that Huntley Fitzpatrick would take me on such a wild roller coaster ride. Wait... I should rephrase that... I expected the roller coaster ride, but for different reasons. I think fans of Huntley will be surprised to find out just what situation Tim finds himself in, but if the readers are anything like me, meaning they like the most unexpected things, they will find themselves closely following this wonderful story.
As far as characters go, readers who have already read
My Life Next Door
will be well-acquainted with Tim Mason, the Garrett family, Samantha Reed, and Grace Reed. What you get out of this book is more out of both Tim Mason and Alice Garrett because it's told through both of their perspectives.
Having two narrators is often risky, but I actually enjoyed the risk that Huntley took by writing this book with dual narrators. And that's really saying something coming from me because dual narrators usually aggravate me. That wasn't the case at all with
The Boy Most Likely To
. Tim and Alice both have distinct voices in this book, and it was fun to see how two had similar or differing opinions on events that take place in the novel. It was also fun to see where each one of them thought their relationship was going. Only one thing really bothered me about the dual narration, and that was that the narrator would change in the middle of the chapter. I wish the different perspectives would have been split up into different chapters.
Now for those of you who are dying for updates on Sam and Jase... yes, you will get them! But understand that these two are not dominant characters in this novel. What you'll be getting is updates through Tim and Alice, but the two (and other characters from
My Life Next Door
and even
What I Thought Was True
) make appearances.
What to expect out of
The Boy Most Likely To
:
You'll learn a lot more about Tim and his addiction.
Tim's secret.
You'll also learn more about Nan's relationship with her brother and former best friend, Samantha Reed.
You'll find out a lot more about Alice, as a person, and how she handles everything that has recently been thrown at her family.
Grace Reed's new dirty secret.
Does
The Boy Most Likely To
deliver? Yes, it does. If you enjoyed Samantha and Jase's story, you should definitely pick this one up to check in on the Garretts. Another great reason to pick this book up is to see how Tim comes of age while dealing with the many new events for the first time, recovery, trying to prove his self-worth, and coming into his own as an adult. And even if you haven't read
My Life Next Door
, add it to your TBR so you'll be able to enjoy all of the life-changing events going on in Stony Bay, Connecticut.