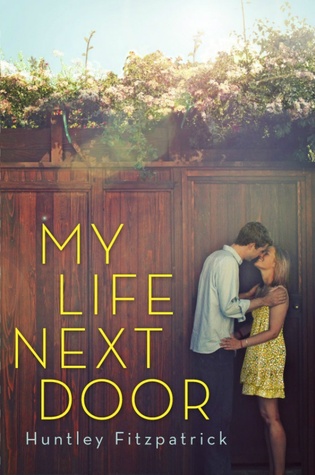 Title: My Life Next Door
Author: Huntley Fitzpatrick
Format: Hardcover, 394 pages
Publisher: Dial Books for Young Readers
Publication Date: June 14, 2012
Source: Purchased
"One thing my mother never knew, and would disapprove of most of all, was that I watched the Garretts. All the time."

The Garretts are everything the Reeds are not. Loud, messy, affectionate. And every day from her rooftop perch, Samantha Reed wishes she was one of them . . . until one summer evening, Jase Garrett climbs up next to her and changes everything.

As the two fall fiercely for each other, stumbling through the awkwardness and awesomeness of first love, Jase's family embraces Samantha - even as she keeps him a secret from her own. Then something unthinkable happens, and the bottom drops out of Samantha's world. She's suddenly faced with an impossible decision. Which perfect family will save her? Or is it time she saved herself?

A transporting debut about family, friendship, first romance, and how to be true to one person you love without betraying another.
My Review
It was a long, long time ago when I first bought a paperback copy of
My Life Next Door
by Huntley Fitzpatrick, and it was all because my sister dropped it in my basket at Half Price Books without telling me. At that point, I hadn't heard of Huntley, but I bought it and my sister read it. She loved it, so I promised myself that I would read it. Time passed, and I kept telling myself that I would get to it. Then a miracle happened, and I found myself looking at a hardback copy of it at the same Half Price Books just a few months later. Months passed by again, and I found that I still hadn't read this praised about book. When Penguin Teen contacted me about participating in their summer feature, The Blog Most Likely To, I jumped on the chance to read it. Boy was I glad that I did because I thoroughly enjoyed this charming novel!

Just saying that I enjoyed My Life Next Door isn't enough to convey everything that I felt while reading this seemingly flawless book. I felt like I was transported into a dreamy, yet busy Connecticut town and immersed into the day-to-day life of the neighborhood where Samantha Reed lives and works.

I loved all of the imperfect characters in My Life Next Door because they were all so realistically flawed. The Reeds are anything but perfect. Samantha's life isn't as easy and magical as it appears, and her sister, Tracy, doesn't act like a perfect child. Then you have the matriarch of the family, Grace Reed, who has a secret of her own, and the picture perfect family is about as flawed as we all are. The other characters in the book have their own problems, and I can't give Ms. Fitzpatrick enough credit for them. There is a character for everyone in this book to relate to whether you are the perfectionist or the one who needs to straighten things out and get your life together.
And what summery YA novel would feel complete without a romance, right? There's an adorable romance in
My Life Next Door
that follows a
Romeo and Juliet
plot line, but with a very fresh and young feel. Readers will swoon as Samantha and Jase fall in love and learn to solve the problems that pop up unexpectedly.
If you haven't already, do yourself a huge favor and read this book! As I'm writing this, I'm wishing that I would have read this when it was released three years ago. I would definitely recommend this to fans of more mature YA, and especially for readers with interest in politics as it is a reoccurring theme in the book. I know I will definitely be picking up the companion book,
The Boy Most Likely To
when it hits shelves this August.
And that completes my superlative for The Blog Most Likely To feature as it was "The Blog Most Likely To Read
My Life Next Door
." Be sure to check in during the rest of the month for some quotes from the book and later in the summer as I read
What I Thought Was True
and
The Boy Most Likely To
by Huntley Fitzpatrick.
a Rafflecopter giveaway