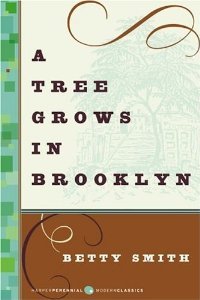 Title: A Tree Grows in Brooklyn
Author: Betty Smith
Publisher: HarperCollins Publishers
Publication Date: May 30, 2006 (Originally Published in 1943)
Source: Borrowed
The beloved American classic about a young girl's coming-of-age at the turn of the century, Betty Smith's A Tree Grows in Brooklyn is a poignant and moving tale filled with compassion and cruelty, laughter and heartache, crowded with life and people and incident. The story of young, sensitive, and idealistic Francie Nolan and her bittersweet formative years in the slums of Williamsburg has enchanted and inspired millions of readers for more than sixty years. By turns overwhelming, sublime, heartbreaking, and uplifting, the daily experiences of the unforgettable Nolans are raw with honesty and tenderly threaded with family connectedness -- in a work of literary art that brilliantly captures a unique time and place as well as incredibly rich moments of universal experience.
My Review
Most of you know that I spend my time during the school year as a substitute teacher. When I was asked to tutor a few students who were being taught from home, I jumped at the opportunity. I thought the experience would be good for my resume, but I also just really love working with kids. One of my students was assigned A Tree Grows in Brooklyn by Betty Smith, and I was thrilled. I'd never read the beloved American classic before, and I couldn't wait to jump in and see why so many people love this book.
What I noticed about Smith's A Tree Grows in Brooklyn is that so many different life events happen, but she writes in a way that just really lets the readers know that it's just a book about life. People grow. People have babies. People die. Kids grow up and start their own lives. All of these events are things that everyone deals with, and I think that's why this novel appeals to so many different people at different points in their lives.
I really liked the slower pacing of the novel. Events happen as if they were true-to-life, and I could imagine many of the these events happening to my own family. I never felt the need to finish it as I do with so many other books. On the contrary, I wanted this book to last forever and ever!
I also really loved and respected the characters. I can definitely see myself as a Francie Nolan because I'm constantly reading or trying to better myself. The scary thing is I can really see my mom as Katie, and I now understand why this is her favorite book. Many of you don't know this, but my mom unfortunately had to drop out of school before she even got to high school. She and Katie share many of the same educational values for their children. Katie wanted to ensure that all of her kids finished eighth grade and above, and my mom made sure that all three of us finished high school, and college. How can you not respect these two characters? They are just perfect examples of real Americans.
I also love the balance of normal life and a few of the unexpected events that Smith throws in the novel. Some of them definitely catch you off guard and really bring you back into the novel and into the moment.
If you haven't, I recommend that you read this book. Yes, it's very long (my copy was 496 pages), but it's worth it. Once you read it, you'll come to realize that people really did (and still do) have to face tough lives. I can definitely see myself rereading this one sometime in the future just to experience life with Francie, Neeley, Katie, Johnny, and the rest of the characters again. You'll also love yourself for getting to know the amazing characters that Smith brings to life in this extraordinary classic.