Rise and shine, Hardcover Lover readers! (Or maybe not... I guess it all depends on what time it is when you're reading this post...) It's time for another edition of Soundtrack Saturday! Soundtrack Saturday is a weekly feature that I started to share playlists with my readers. There's a catch, though. All of my playlists are based on books that I've read!

As with all bookish memes, there are a few steps to follow to help you create your own perfect Soundtrack Saturday post:
Choose a book that you've read or are currently reading
Create a mini (four songs) or full soundtrack (ten-fifteen songs) for that book based on characters and plot details


For more detailed instructions, please visit the meme's homepage.

Please credit me somewhere in your post


It can be as simple as "Soundtrack Saturday was created by Erin at The Hardcover Lover."

Leave a comment on my blog post if you enjoy the feature
Add your name to the link-up tool at the bottom of the post
This week's playlist is based on Jenny Han's
P.S. I Still Love You
, which I reviewed earlier this week. This one was a fun one for me to create because I got to use some of the songs that Han referenced in the book, but I got to add a few that I thought would fit in perfectly. And this one made me cry. I mean that.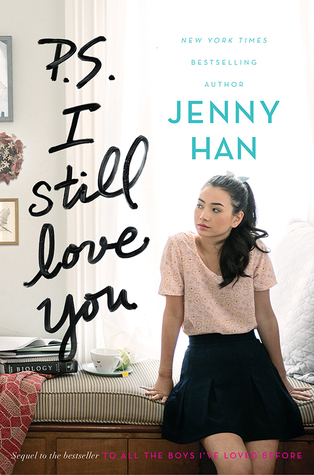 1. "Don't Speak" by No Doubt
2. "Bright" by Echosmith
3. "Wild Child" by Kenny Chesney and Grace Potter
4. "I'm Not the Only One" by Sam Smith
5. "Dear Future Husband" by Meghan Trainor
6. "Boogie Woogie Bugle Boy of Company B" by the Andrews Sisters
7. "In the Mood" by Glenn Miller
8. "I Love You for Sentimental Reasons" by Nat King Cole
9. "Bad Blood" by Taylor Swift
10. "Sixteen Going on Seventeen" from The Sound of Music
11. "Happy Birthday" by Altered Images
12. "Thinking Out Loud" by Ed Sheeran
13. "Happily Ever After" by He is We
So... what do you think? Do agree with some of these song choices? Are there any other songs you'd add to tell Lara Jean's story? Let me know in the comments!
Oh, and be sure to link up if you're participating in Soundtrack Saturday this week. You know I love to see those playlists!