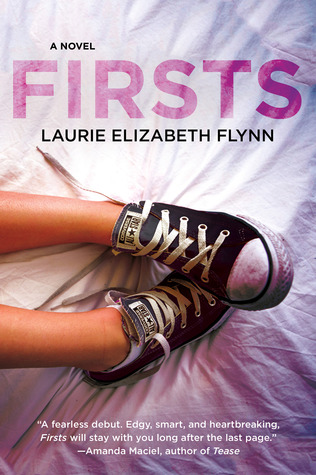 Title: Firsts
Author: Laurie Elizabeth Flynn
Publisher: St. Martin's Griffin
Publication Date: January 5, 2016
Source: ARC from St. Martin's Griffin
Seventeen-year-old Mercedes Ayres has an open-door policy when it comes to her bedroom, but only if the guy fulfills a specific criteria: he has to be a virgin. Mercedes lets the boys get their awkward, fumbling first times over with, and all she asks in return is that they give their girlfriends the perfect first time- the kind Mercedes never had herself.

Keeping what goes on in her bedroom a secret has been easy- so far. Her absentee mother isn't home nearly enough to know about Mercedes' extracurricular activities, and her uber-religious best friend, Angela, won't even say the word "sex" until she gets married. But Mercedes doesn't bank on Angela's boyfriend finding out about her services and wanting a turn- or on Zach, who likes her for who she is instead of what she can do in bed.

When Mercedes' perfect system falls apart, she has to find a way to salvage her reputation and figure out where her heart really belongs in the process. Funny, smart, and true-to-life, FIRSTS is a one-of-a-kind young adult novel about growing up.
My Review
Firsts by debut novelist Laurie Elizabeth Flynn is a book that I've had my eye on for a while, and I was thrilled when I was given the chance to read and review an early copy. With its comparison to Easy A, I was sure that this one was going to be a hit for me because I loved that movie! I was excited to see something similar in premise in print, and I couldn't wait to jump into this book. What I realized after reading was that I was really conflicted about the whole book. I liked parts, but I also disliked parts, and it made for a confusing feeling.
Firsts and I got off to a very slow start. I had a hard time connecting with Mercedes' narration and who she was as a character. She's brutally honest, and it's just a bit shocking at first, especially when you compare her to other contemporary YA characters and narrators. As I adjusted to her disposition, I began to like her, but only slightly. It was interesting to see how she interacted with the other characters in the book, but most of the time, I just wanted to shake my head because she's so mean! She's not exactly the nicest person to have as a friend, and she just treats so many people horribly. But as events progress, she changes, and starts to realize how to deal with her past mistakes. By the end of the book, I really liked seeing how far she'd come and how much she changed as a person for herself, but I still don't think I liked her.
The other characters in the book are a lot easier to deal with than Mercedes. Zach, Mercedes' Wednesday Friend, is probably my favorite character in the book. He's the polar opposite of Mercedes, and I just wanted to hug him because he's just such a loyal friend, even when Mercedes doesn't want to be his friend. He brings a lot of softness to the book, which is a pleasant surprise. Mercedes also has a best friend named Angela. Angela is very religious, and she wants to save herself for marriage. Cool. There's absolutely nothing wrong with that in my book, and I admired Flynn's inclusion of that because it brings a lot of balance to the book. I just wish I knew her a little bit more because she's a unique character, and I really liked her. And then there's Faye. At first, Faye is this mysterious new girl at school, and Mercedes doesn't really know how to take her. I'm really glad that the two of them became good friends because Faye really brings a lot of the tension to a halt.
Now a lot of early reviews are saying that this is a sex positive book, but I'd have to disagree to a certain extent. Yes, at first, what Mercedes does by sleeping with all the virgins can be seen as sex positive because it's something that she wants to do. But a lot of this really happens before the book begins, and readers never really get to see what really happens in these scenes. As the book progresses, it gets less and less sex positive. In fact, it made me cringe because it just felt so negative. Yes, what Mercedes does by sleeping with the virgins is still considered consensual, but she's so freaking miserable about what she's doing! She keeps saying that she wants to stop sleeping with the virgins, and she swears that number-so-and-so is the last one. But more and more virgins at her school seek her out, and it seems like she just sleeps with them out of habit instead of her original reason of wanting to help them give their girlfriends a perfect first time.
There's also the issue of Charlie, and while I expected him to be an asshole, I didn't expect Mercedes to be so stupid about some of the things that he did to her. I don't want to spoil a major event in the plot, but after one thing Charlie did to Mercedes, she really could have had the upper hand if she'd only stood up for herself.
THE NEXT FEW PARAGRAPHS HAVE HIDDEN SENTENCES BECAUSE THEY CONTAINS SPOILERS. YOU HAVE BEEN WARNED.
Mercedes had every right to go to the police and report the sex tape that Charlie posted online as child pornography. According to some legal advice that I found on Avvo, Charlie's video is considered child pornography because Mercedes is under eighteen in the video, and it's a video of her having sex.
I cannot tell you how much this detail angered me, and to be honest, it's a huge factor into why I rated this book as low as I did. I just can't condone the inclusion of it without any mention as to how or why it's illegal. Like out of all of those characters in the book and the school, not one thought of it? I don't find that realistic.
Then there's the Luke thing.
This is another thing that Mercedes should have gone to the police or her mother about, and I really thing that her strained relationship with her mother is a huge part of shy she doesn't talk about these things that have happened to her. What Luke did could also be considered illegal, and I just wish that she realized this earlier rather thank later.
I just feel so bad for Mercedes. The girl has gone through so much, and she really needs to seek counseling. It's heartbreaking to read about everything she's gone through, and I really do hope that her story helps girls and women who have been in similar situations.
All in all,
Firsts
by Laurie Elizabeth Flynn isn't a bad book. It's just a book that probably needed a little more research before publication. This is really a frustrating review for me because I liked many aspects of the book and quite a few of the characters, but just a few details angered me a lot. I do think that fans of the movie
Easy A
would like this book because they have similar themes, and that humor from
Easy A
is in
Firsts
. I just think that
Firsts
would translate better as a film. I would also recommend this book to fans of
Sex in the City
.
Laurie Elizabeth Flynn writes contemporary fiction for young adults. Her debut,
FIRSTS, will be published by Thomas Dunne Books/St Martin's Press in 2016.

Laurie went to school for Journalism, where the most important thing she learned was that she would rather write made-up stories than report the news. She also worked as a model, a job that took her overseas to Tokyo, Athens, and Paris.

Laurie now lives in London, Ontario with her husband Steve, who is very understanding when she would rather spend time with the people in her head. Laurie can mostly be found writing happily at her desk, with the world's most spoiled Chihuahua on her lap. Laurie drinks way too much coffee, snorts when she laughs, and times herself when she does crossword puzzles.

Laurie is represented by the amazing Kathleen Rushall of the Marsal Lyon Literary Agency.