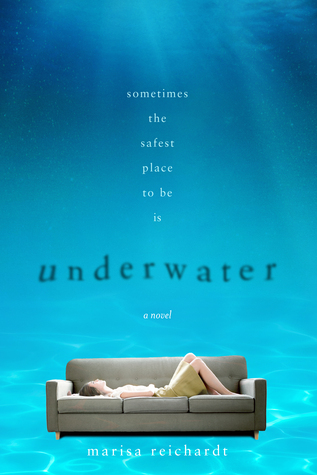 Title: Underwater
Author: Marisa Reichardt
Publisher: Farrar, Straus, & Giroux
Publication Date: January 12, 2016
Source: Farrar, Straus, & Giroux for Review
Morgan didn't mean to do anything wrong that day. Actually, she meant to do something right. But her kind act inadvertently played a role in a deadly tragedy. In order to move on, Morgan must learn to forgive—first someone who did something that might be unforgivable, and then, herself.

But Morgan can't move on. She can't even move beyond the front door of the apartment she shares with her mother and little brother. Morgan feels like she's underwater, unable to surface. Unable to see her friends. Unable to go to school.

When it seems Morgan can't hold her breath any longer, a new boy moves in next door. Evan reminds her of the salty ocean air and the rush she used to get from swimming. He might be just what she needs to help her reconnect with the world outside.

Underwater is a powerful, hopeful debut novel about redemption, recovery, and finding the strength it takes to face your past and move on.
My Review
Underwater, a debut novel by Marisa Reichardt, is a book that I'd been curious about for a while. First of all, the cover is more than a little interesting. The title is as well. I wanted to know more about what it was, but then again, I didn't. I requested an ARC, thinking that I probably would not receive one, only to be shocked when one showed up on my doorstep. So I put it on my nightstand, and waited until the right time to read it. Only this time, I went into the book blind. I didn't read the synopsis until after I'd started reading, and let me tell you, I love that decision.
I don't want to spoil this book for anyone because it's really just a great book, but I will tell you that I love the plot that Ms. Reichardt has created for her readers. It's real, raw, and gritty, and even if you haven't been through some of the things in Underwater, you'll be able to relate to it. I also love the fact that Reichardt isn't completely upfront about everything that happened to the book's main character, Morgan Grant. Reichardt doesn't immediately come out with why Morgan is the way that she is. It was a risky move, especially for a debut novelist, but it is a move that paid off. Reading Underwater is literally like being on a roller coaster. There are ups and there are downs, and it's such a powerful and phenomenal book that readers won't forget.
So by now, you've probably figured out that something very traumatic happened to Morgan Grant, but that's now all that Underwater is about. Ms. Reichardt also weaves in a story Morgan's family, and it's one that honestly broke my heart. Morgan, her brother Ben, and her mother have to deal with an absent father, but the demons that are trying to destroy him. It's so realistic and heartbreaking, but it also plays a crucial role in Morgan's healing.
The characters in Underwater are by far some of the best and most developed characters that I've come across in a YA novel. Readers will be able to tell that Reichardt really put the time in to develop them and their stories. The book's main character, Morgan, is like an onion; there are so many layers to her that readers will peel back as the novel progresses. I love that she's not a perfect character; she's flawed in many different ways. I also love the journey that she goes on to try to get back to what she thinks is normal. At the beginning of the book, Morgan gets a new neighbor, Evan. Evan is everything that Morgan isn't; he loves being outside, and he just wants to live after he and his mother leave Hawaii and move to California to help his aunt. Morgan's old friends also play a role in the book, even though it's very minimal. I loved learning about them, and seeing what Morgan was like before everything happened.
Morgan's family is also present in this novel, and her mom is such a dominant character in the book. I know that a lot of YA novels don't feature parents, or if they do, they have very minimal roles. That's just not the case here. Reichardt throws all of that out the window by including a loving and concerned mother who only want the best for her daughter and will stop at nothing to help her. But Morgan's mother is also flawed because of marital issues, and it just makes for such a realistic read.

Now there's also a romance in Underwater, but it's not the most important thing going on in the book or Morgan's life. Yes, it's part of what helps her move on from what's happened, but being in a relationship is not the most important thing to her. I loved that about this book. It's just so inspiring to see a character look for more in life than just a relationship, and because of this, I really think that Morgan is going to be a role model for teenagers, especially teenage girls, who read this book.
Underwater by Marisa Reichardt is a book that every reader of YA fiction needs to read as soon as possible. It's a title that parents should be sharing with their teenagers, and it's a book that teachers should be buying and keeping in their classrooms. Why? Because it's such an emotional and powerful book. Readers will not be the same after finishing Underwater, and they will have a new outlook on life, mental illnesses, and other issues that have become all too common in society. It's a book that will really change the way that readers think, and I'm honestly so glad that it was written because it's such an important book. Marisa delivers a strong debut, and she has set the bar high for the rest of the Sweet Sixteeners.



Marisa Reichardt is a SoCal native and high school writing instructor. She has a Master of Professional Writing degree from the University of Southern California and dual undergraduate degrees in literature and creative writing from UC San Diego. She spent her college years shucking oysters, waiting tables, and peddling swimwear. She has spent her post-grad years writing, tutoring, and teaching. She currently lives in Los Angeles with her family, and can usually be found huddled over her laptop in coffeehouses or swimming in the ocean.