Welcome, everyone, to my stop on the blog tour for Emily Henry's utterly breathtaking debut novel, The Love That Split the World. Today, I've got a guest post from Emily, and she'll be sharing 25 Random Things about herself. But before we get to that, let's get acquainted with her debut novel.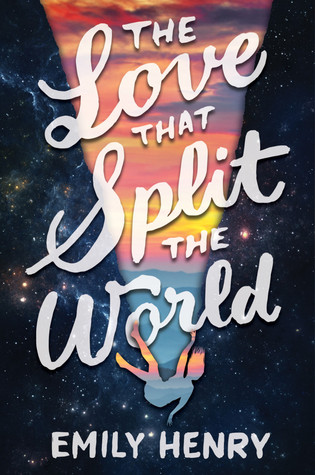 Title: The Love That Split the World
Author: Emily Henry
Publisher: Razorbill
Publication Date: January 26, 2016
Natalie Cleary must risk her future and leap blindly into a vast unknown for the chance to build a new world with the boy she loves.

Natalie's last summer in her small Kentucky hometown is off to a magical start... until she starts seeing the "wrong things." They're just momentary glimpses at first—her front door is red instead of its usual green, there's a pre-school where the garden store should be. But then her whole town disappears for hours, fading away into rolling hills and grazing buffalo, and Nat knows something isn't right.

That's when she gets a visit from the kind but mysterious apparition she calls "Grandmother," who tells her: "You have three months to save him." The next night, under the stadium lights of the high school football field, she meets a beautiful boy named Beau, and it's as if time just stops and nothing exists. Nothing, except Natalie and Beau.

Emily Henry's stunning debut novel is Friday Night Lights meets The Time Traveler's Wife, and perfectly captures those bittersweet months after high school, when we dream not only of the future, but of all the roads and paths we've left untaken.
I'd like to give a warm welcome to Emily Henry! She's at The Hardcover Lover today to share some random facts about herself! So without further ado, I'm handing it over to Emily!


25 Random Things About Me
By Emily Henry
1. I read magazines and lists backward. If I'm online-shopping, I start at the bottom and scroll up. It's easier for me to have a clear idea of what to expect, and for some reason it feels more concrete to flip/scroll to the end and work backward, rather than just watching the scrollbar or pages.
2. Instead of cake at our wedding, my husband and I exclusively had donuts. For dinner, we had pizza, served from a pizza truck.
3. Speaking of cake, I once won nine consecutive cakewalks at a school carnival. And in case you don't know what a cakewalk is, it's basically like Musical Chairs. Someone plays music as people walk around on number stickers. When the music stops, you stop where you are, and someone draws a number from a raffle. Whoever's standing on that number wins a donated cake (This is usually part of a fundraiser). I WON NINE IN A ROW, so whenever my luck's bad, I attribute it to having used the rest up that day.
4. I have only ever dated people whose names start with the letter "J," including two people whose first names did not start with the letter "J" but went by their middle names, which did. I also think two of them had the same birthday. It wasn't on a purpose, but like, maybe I'm subconsciously biased against the rest of the letters of the alphabet?
5. When I was five, I was on a softball team for exactly one game. When I hit the ball, I ran the wrong way, and I was so embarrassed I never wanted to play again. So I didn't. I quit and never went back.
6. In high school I did competition dance, and I studied modern dance all through college. I actually chose my college based on its dance program, though I went on a writing scholarship. All through high school and college I bounced back and forth between which I wanted to focus on. I've always felt like dance puts something into me that isn't there naturally and writing pulls something out that I'm constantly producing.
7. I once spent a whole day hanging out with an extra from Harry Potter before finding out he was an extra in Harry Potter, at which point I started laugh-crying and very truly fell out of my chair. People in the restaurant took video of my reaction. I hope I'm never famous enough for it to leak.
8. I am, ALLEGEDLY, related to the Bröntes. Someone in my family did a genealogy report and somehow, we're connected to them.
9. I can't listen to music and write. I can't listen to music and read. If I'm listening to music, I'm pretty much only listening to music. I'm too easily distracted.
10. I worked at Taco Bell when they invented the Crunchwrap Supreme. We had to go in for a special meeting to learn how to make it. Also I wasn't allowed to wear my nose ring to work so I wore this clear piercing retainer that hung out of my nose and looked like snot, and SOMEHOW they thought that was more ~professional.
11. Otters are my favorite animal, and sometimes I try to figure out whether I like sea otters or river otters more and it stresses me out. On our honeymoon, my husband and I were so stoked to see THREE separate families of sea otters floating past our water taxi, HOLDING HANDS! I've seen otters hold hands in real life!!! I have reached my peak.
12. In TLTSTW, the character of Megan is based on my real-life best friend. We met when we were eleven years old and lived in different states (I lived in Kentucky; she lived in Ohio). We stayed best friends all through middle school and high school (at which point, we both lived in Ohio), and all through college (she moved to Indiana and I moved to Michigan). In our final semesters of college, she went to Oregon and I went to NYC, and after school we both came back to Ohio, eventually both married the people we'd been dating for six years, and moved to Kentucky, where we live roughly three blocks apart. Our husbands are BFFs now too. We are truly living the dream.
13. Once my brothers and I got to pet a baby manatee who'd swum into a marina, and he turned over onto his back so we could rub his tummy.
14. I'm pretty much always wearing fuzzy socks. A couple years ago, I just realized how much I love them and asked myself why I would ever bother wearing any socks that weren't fuzzy so I've very gradually accumulated them and it is the best.
15. The ONLY time I doubt my career trajectory is when I see videos of people hugging lions or caring for baby pandas or giving sloths tea-leaf baths. If I had time for a second complete life, I would've taken whatever path one takes in order to hug lions.
16. When I was eleven, I started a dog-walking business, and my parents swear that I made flyers encouraging people to call me specifically to walk their three-legged dogs.
17. I drink so much coffee every day that I finally started mixing it with decaf so I could drink more. I love everything about it--the ritual, the comfort, the taste, the smell, the creative buzz.
18. I'm obsessed with holidays and seasons. I do Halloween for like six weeks, and start listening to Christmas music way before anyone else is cool with it (pretty much exclusively the Vince Guiraldi Trio)! Winter just sucks too much if you don't infuse it with magic.
19. I'm really weird about listening to oldies music when I'm driving. I have a hyperactive imagination and I always convince myself that if I'm listening to, like, old, crackly doo-wop music on the radio, I'm about to a) get in an accident or b) be attacked by vampires. I can just see how the scene would play out--how the camera would pan out and this eerily happy music would still be playing while the wheels on my overturned car kept spinning. TOO MUCH TV, PEOPLE. This is what it does to you!
20. I'm obsessed and fascinated with personality evaluations. I'm an INFJ to my core (introverted, intuitive, feeling, judging) but I loooooove people and can also be pretty loud, so people are usually surprised to find out how much alone time I need, or to catch me on an off-day when I'm low-key.
21. I struggle with anxiety and migraines. I have to take both of these things into account when I'm making plans, since both can be managed to an extent but are somewhat unpredictable. If I ever seem like I'm not really listening to you, and am just sort of vaguely smiling and nodding along, I probably have a headache.
22. I cried when Beyoncé dropped her surprise album. I have very strong feelings about Beyoncé as both a human being and artist, and they're all positive. Plus I'm just a crier, so there's that.
23. In college I took a class on dinosaurs. It was impressively boring.
24. Once, for Halloween, I dressed up like Bellatrix Lestrange and after I'd gone to bed, I got up again to scrub the dark mark off my arm because I couldn't sleep knowing it was on my body.
25. I left #1s and 2 of this list open to do last because it's really hard to both start and finish things.
Follow the Tour


Again, I'd like to thank Emily for stopping by today, and sharing these random facts about herself! Personally, I'm impressed by the Bronte relation (English teacher here!) and the Harry Potter extra story. Sorry, Emily, but I really, really want to see that video! (P.S. When my Teaching Digital Media class found out that our professor was an extra in a country video, we found the video!) Oh, and let's not forget that Bellatrix Lestrange costume! Kudos, Emily! I love it!




So... what was your favorite fact? Let us know in the comments, and be sure to grab a copy of The Love That Split the World at your local bookstore or any national retailer!