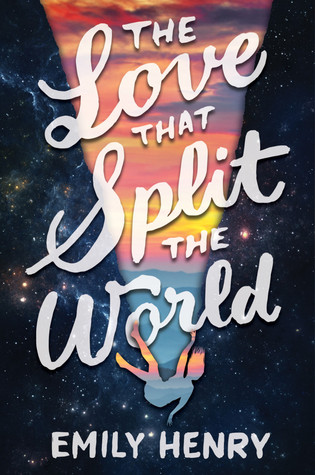 Title: The Love That Split the World
Author: Emily Henry
Publisher: Razorbill
Publication Date: January 26, 2016
Source: ARC from Razorbill
Natalie Cleary must risk her future and leap blindly into a vast unknown for the chance to build a new world with the boy she loves.

Natalie's last summer in her small Kentucky hometown is off to a magical start... until she starts seeing the "wrong things." They're just momentary glimpses at first—her front door is red instead of its usual green, there's a pre-school where the garden store should be. But then her whole town disappears for hours, fading away into rolling hills and grazing buffalo, and Nat knows something isn't right.

That's when she gets a visit from the kind but mysterious apparition she calls "Grandmother," who tells her: "You have three months to save him." The next night, under the stadium lights of the high school football field, she meets a beautiful boy named Beau, and it's as if time just stops and nothing exists. Nothing, except Natalie and Beau.

Emily Henry's stunning debut novel is Friday Night Lights meets The Time Traveler's Wife, and perfectly captures those bittersweet months after high school, when we dream not only of the future, but of all the roads and paths we've left untaken.
My Review
This new year is starting off with some great debut novels, and Emily Henry's The Love That Split the World is just one of January's finest debuts! Trust me, on this, readers will be begging for more from Ms. Henry before the book is even over! Full of some wonderful Native American and and religious stories, life, and heartbreak, this is one book that readers will enjoy over and over again.
What I loved most about The Love that Split the World was the rich and multi-layered plot. The plot is unlike any novel I've ever read before. Yes, I agree that it's reminiscent of Audrey Niffeneger's The Time Traveler's Wife because of the content, but The Love That Splits the World really does stand on its own. While Natalie Cleary deals with what most people would consider impossible, she starts to realize that the world isn't what it seems. She has to deal with the fact that people think she's crazy. She has to come to terms with who she is. She has to overcome her traumatic past and deal with heartache all while being told that she only has three months to save the one that she loves. Not only does it add a lot of stress to Natalie's life, but it also causes her to escape into a world that she hasn't yet come to understand.

The characters in The Love That Split the World are absolutely wonderful. They are all flawed in their own ways, but they all add a new layer to the novel. I think readers will like learning about all of them and seeing how complicated they all are. I also think that readers will enjoying seeing how one summer changes them all.

The book's main character and narrator is Natalie Cleary. Once a star on the dance team, she's now isolated herself from pretty much everyone in her small hometown. She's struggling with who she is because she doesn't exactly know who she is. She knows she's adopted and that her birth mother was Native American, but she doesn't know how she came to be or who she can become. She sees an older woman called Grandmother in visions, but every doctor Natalie's ever seen believes that it's just a figment of Natalie's imagination. Natalie also used to date one of Ryle High School's football stars, Matt Kincaid. He's still in love with her and can't comprehend why she ended it, so he turns to alcohol to numb the pain. Natalie's best friend is Megan. She's one of the only people who Natalie still talks to daily, and she's also the only person that Natalie trusts with her secrets.

These secrets that Natalie hides come to fruition when Natalie meets Beau. She sees him in flashes, and she becomes curious about this new guy. The only problem? They sometimes can't reach one another. Beau tries to call Natalie, but the call won't go through. This leads him to believe that she gave him a fake number. The same happens for Natalie; her calls end in a message that says the number is out of service. Despite the lack of communication, these two start to figure out ways to one another, and they begin an overwhelming but beautiful friendship. These two start to realize that they have more in common than they originally thought, and together, they try to put the puzzle pieces together to see what Grandmother meant.
Ms. Henry depicts Natalie's journey to save the world and the people she loves beautifully. The imagery in this novel is beyond superb and it's just as gorgeous as the book's cover. I felt like every little detail of Natalie's world was exploding in front of my eyes as I was reading this utterly charming book. Readers will fall in love with the written word as Henry presents the past, present, and future. They will see every sunrise, every sunset, every star, every cloud, every road, and every blade of grass in Union, Kentucky. The imagery is just perfection at its finest.
It's also clear to readers that Emily Henry is no stranger to writing because this book is just full of beautiful stories and quotations. I was in awe while reading because the writing in The Love That Split the World is that gorgeous, but I never felt like it was too much. The teenagers speak like teenagers, but sometimes, it's just clear that Natalie knows more than most kids her age. But hey... she is Brown bound, so I never once questioned that. If I would have taken a highlighter to this book, it would be full of color because there are just so many elegant phrases and passages. For now, it's just full of page flags to mark all of my favorite passages.
Another great aspect of the book is the diversity. While I don't claim to be a genius on Native Americans and indigenous peoples, I loved reading about Natalie and her journey of self-discovery. I loved how curious she was about her heritage, and how Grandmother always seemed to tell her the most beautiful stories that she'd be able to see herself in. The inclusion of the Native American creationism stories also adds a nice touch for both readers and for Natalie, the girl who feels lost. I really think anyone with Native American heritage will appreciate Natalie and her "Grandmother."
Honestly, I'd recommend this book to anyone who enjoys reading about complicated situations. The Love That Split the World is not just a book for teens. It's a book for people who have ever wandered who they really are. It's a book for kids who have been adopted and been curious about their birth families. It's a book for Native Americans. It's a book for fans of time travel and science fiction. It's a book that everyone needs to read.
Emily Henry is a full-time writer, proofreader, and donut connoisseur. She studied creative writing at Hope College and the New York Center for Art and Media Studies, and now spends most of her time in Cincinnati, Ohio, and the part of Kentucky just beneath it. Find her on Twitter @EmilyHenryWrite