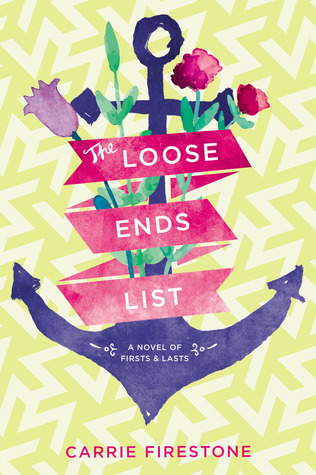 Title: The Loose Ends List
Author: Carrie Firestone
Publisher: Little, Brown Books for Young Readers
Publication Date: June 7, 2016
Source: Little, Brown Books for Young Readers for Review Consideration
Seventeen-year-old Maddie O'Neill Levine lives a charmed life, and is primed to spend the perfect pre-college summer with her best friends and young-at-heart socialite grandmother (also Maddie's closest confidante), tying up high school loose ends. Maddie's plans change the instant Gram announces that she is terminally ill and has booked the family on a secret "death with dignity" cruise ship so that she can leave the world in her own unconventional way - and give the O'Neill clan an unforgettable summer of dreams-come-true in the process.

Soon, Maddie is on the trip of a lifetime with her over-the-top family. As they travel the globe, Maddie bonds with other passengers and falls for Enzo, who is processing his own grief. But despite the laughter, headiness of first love, and excitement of glamorous destinations, Maddie knows she is on the brink of losing Gram. She struggles to find the strength to say good-bye in a whirlwind summer shaped by love, loss, and the power of forgiveness.
My Review
Carrie Firestone's debut novel, The Loose Ends List, is a book that caught my eye a while ago for its unique title. Who doesn't have a list of things that they wish they could have finished when they had the chance, right? I know I do! Obviously I wanted to see what this one was really about. Unfortunately for me, The Loose Ends List was a dud of a read.
So just what happened that caused me to DNF The Loose Ends List? To be honest, there were a lot of reasons behind it, one of them being the oh so odious characters. For me to really enjoy a book, I have to enjoy the characters. I didn't like one character that I met in The Loose Ends List.
The narrator, Maddie, is a snot! I found myself annoyed with her after one chapter, but I decided to give her a chance because the plot of the book at least seemed interesting. I really shouldn't have given her that chance because she started driving me nuts with every single word in the book. Oh, and her actions? OMG. Don't even get me started. This girl and her friends come up with really rude nicknames for the people that they meet. I know stuff like this happens in real life, but it really rubbed me the wrong way. I couldn't stand her or her friends, or their stereotypical mean girl ways.
Maddie's family isn't any better, either. I get that this family is rich, but their sense of entitlement is just off-the-wall unbearable! They seriously get in a huge fight after Maddie's grandmother announces that she is terminally ill and wants to die with dignity! Yes, I know that's a lot to take in, but to fight in front of someone when they've just shared one of their last secrets. Nope! These are not my kind of people!
Okay... there were some other things that bothered me about the book too, and those include racism from Maddie's family about her grandmother's boyfriend and a really strange case of instalove. I don't know what else to say other than this whole book is a caseload of weird. It's seriously like someone put all the Kardashians in a blender and fed it to Ms. Firestone's book.
I only finished about thirty percent of the book, but I could tell that reading the rest of it probably wouldn't have been any better. The concept on this one is cool, but the book's characters are too craptastic for me.