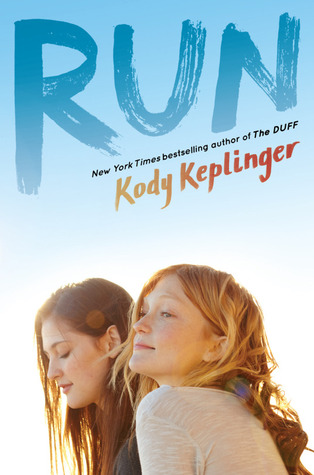 Title: Run
Author: Kody Keplinger
Publisher: Scholastic Press
Publication Date: June 28, 2016
Bo Dickinson is a girl with a wild reputation, a deadbeat dad, and a mama who's not exactly sober most of the time. Everyone in town knows the Dickinsons are a bad lot, but Bo doesn't care what anyone thinks.

Agnes Atwood has never gone on a date, never even stayed out past ten, and never broken any of her parents' overbearing rules. Rules that are meant to protect their legally blind daughter -- protect her from what, Agnes isn't quite sure.

Despite everything, Bo and Agnes become best friends. And it's the sort of friendship that runs truer and deeper than anything else.

So when Bo shows up in the middle of the night, with police sirens wailing in the distance, desperate to get out of town, Agnes doesn't hesitate to take off with her. But running away and not getting caught will require stealing a car, tracking down Bo's dad, staying ahead of the authorities, and -- worst of all -- confronting some ugly secrets.
Kody Keplinger's Top Ten Fictional Characters She'd Invite to Dinner
So I'm hosting a dinner party with a guest list made up of fictional characters. I had to think about this guest list carefully, because it's not just a matter of inviting my favorite characters. You wan to be sure your guests will have interesting chemistry, that the conversations will be intriguing, and that no one will get into a fist fight.
So I am including characters from books, movies, and television here. Let's see who gets an invite.
1.
Princess Leia/General Leia (Star Wars)
First on the list is one of my childhood heroes. I feel like Leia would have some awesome stories to share over dinner.
2.
Elizabeth Bennett (Pride & Prejudice)
I think Lizzie's dry wit and clever banter would make for some great company. And besides, I want all the gossip on Darcy!
3.
Leslie Knope (Parks & Recreation)
One of my all-time favorite female characters, it would really be an entertaining dinner party without Leslie. I'd love to hear her talk Pawnee politicis vs. galactic politicis with Leia.
4.
Ben Wyatt (Parks & Recreation)
Ben would be so devastated if he wasn't invited to the same party as Princess Leia. He'll probably just be quietly nerding out most of the night.
I love smart, tough women, and there aren't many on television right now who are smarter or tougher than Cookie. She'd definitely keep the conversation interesting and real. And, if we're lucky, maybe she'll bring Portia along.
6.
Kingsley Shacklebolt (Harry Potter)
I have a thing for fictional politics, and I've always had a soft spot for Kingsley. He was always one of my favorite Order of the Phoenix members, and I'd love to hear him discuss the Ministry of Magic. I can see him and Leslie and Leia getting into some fascinating discussions.
7.
Anne Shirley (Anne of Green Gables)
I related to Anne so much as a kid. I was imaginative and chatty. And I think that spirit would make any dinner party lively! I'm sure Anne would have a million questions for the other guests, particularly those from more fantastical worlds.
8.
Haruhi Suzumiya (The Melancholy of Haruhi Suzumiya)
Haruhi has always been my favorite anime character. Some might find her energy and bossiness to be a little too much, but as a formerly energetic and bossy teen (though maybe not quite as quirky) I loved Haruhi. She'd most certainly make the dinner party delightfully bizarre. And I think she and Anne would get along quite well.
Another badass lady boss! I'm fascinated by Clarke, and I think she'd fit in really well with the rest of the guests. Plus, as a queer woman myself, I'd love to get her take on bisexuality in future societies. She might be a little too practical to sit next to Anne and Haruhi, but if she could snag a chair near Kingsley, I think they'd be good friends.
10.
Alexander Hamilton (Hamilton)
Okay, okay. I know Alexander Hamilton isn't fictional, but I am specifically referring here to the character from the musical, as played by Lin-Manuel Miranda. The Alexander Hamilton who might start a rap battle over dinner. So it's cheating a bit, but whatever. As I said, I love politics, and Alexander brings a new spin to them. He's similar to but also different enough from some of the other guests to keep things lively. Plus, like I said, maybe we'd get a rap battle started over dessert.
So that's my guest list! I'm sure we'd have a weird and wonderful time chatting over a few vegan entrees. With this crowd, things are sure to be interesting.
I don't know about you guys, but quite a few of Kody's dinner guests would also get an invitation from me, especially Princess/General Leia! Which fictional characters would you invite over for dinner?
K

ody Keplinger was born and raised in small town western Kentucky, where she began her writing career after penning the New York Times and USA Today bestseller, The DUFF, at age seventeen. The DUFF, now a major motion picture, was chosen as an YALSA Top Ten Quick Pick for Reluctant Young Readers and a Romantic Times Top Pick. Kody has since written other books for both young adult and middle grade readers. When she isn't writing, Kody is posting about fashion and body positivity on her Instagram, chatting about her favorite TV shows on Twitter, or making videos for her YouTube account. Kody is also the co-founder of Disability in KidLit and a teacher at the Gotham Writers Workshops in NYC.Kody is active on social media, so feel free to reach out to her on Twitter, Facebook, Instagram or YouTube.
Giveaway