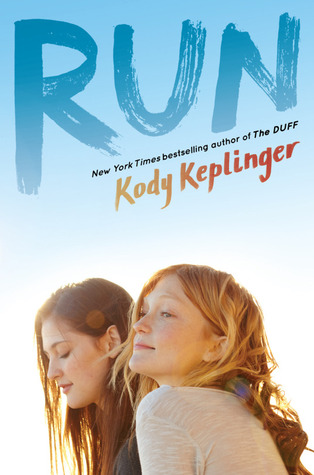 Title: Run
Author: Kody Keplinger
Publisher: Scholastic Press
Publication Date: June 28, 2016
Source: Scholastic Press for Review Consideration
Bo Dickinson is a girl with a wild reputation, a deadbeat dad, and a mama who's not exactly sober most of the time. Everyone in town knows the Dickinsons are a bad lot, but Bo doesn't care what anyone thinks.

Agnes Atwood has never gone on a date, never even stayed out past ten, and never broken any of her parents' overbearing rules. Rules that are meant to protect their legally blind daughter -- protect her from what, Agnes isn't quite sure.

Despite everything, Bo and Agnes become best friends. And it's the sort of friendship that runs truer and deeper than anything else.

So when Bo shows up in the middle of the night, with police sirens wailing in the distance, desperate to get out of town, Agnes doesn't hesitate to take off with her. But running away and not getting caught will require stealing a car, tracking down Bo's dad, staying ahead of the authorities, and -- worst of all -- confronting some ugly secrets.
My Review
Have you ever started reading a book and just get carried away? That's what Kody Keplinger's latest YA novel does to readers. Run takes readers away from their day-to-day lives and forces them to get lost in between the pages of this gritty and charming novel that takes place in the deep south.
Run is one of those novels that caught me off guard. I didn't expect to fall in love with it as quickly as I did. What really got me into the book was the way that Kody Keplinger wrote it. First of all, readers will encounter two narrators - Bo and Agnes. Each main character has a story to tell, and seeing how they intertwine is literal perfection.
Bo's part of the novel takes place in the present, when the girls are on the run from parents and authorities. Readers will get to see what Bo and Agnes are running from and they will learn why along the way. On the other hand, Agnes' story is set in the past. We learn about how she met Bo and became friends with her from events that have already happened. Eventually, the two storylines converge, and readers will have taken a full journey with these two remarkable and memorable characters.
Another thing that really stuck out to me about Run's writing style was Bo's voice. She's southern, and Kody Keplinger lets her readers know it. I had a lot of fun reading her from her point of view and actually hearing what everything coming out of her mouth would sound like when spoken. There's also a little bit of twang in Anges' voice, but Bo is really the star of the show when it comes to speaking in dialect.
I've briefly mentioned the plot of Ms. Keplinger's Run, and like I said earlier, it's really fun to see the past meet the present in this book. I loved seeing how these two girls, who definitely aren't supposed to be friends, become close and eventually forge an unbreakable bond. Even though Agnes and Bo haven't been friends for long, they would both do anything for the other person, including going along when one of them needs to get the hell out of dodge.
So if you're looking for a fun, serious, and gritty book about best friends, look no further than Kody Keplinger's Run. There's definitley a little something for everyone in this book. There are diverse characters, southern rebels, a little bit of romance, and a whole lot of raising hell in this spunky, little book.