Hey, there everyone, and welcome to this week's Soundtrack Saturday post! I've got something really special lined up for you today, so be sure to keep reading to find out just what it is!
So anyone who might be new to my blog (or oblivious to this meme) might be thinking, "What on Earth is Soundtrack Saturday?"
Soundtrack Saturday is a bookish meme that I created so I could share my love of books and music. Each Saturday, I choose a book and post a playlist full of songs based on the characters, the plot, and the themes in the book.
But that's not all. You can participate, too! I'm inviting all interested book bloggers to participate in this meme! Each week, I'll be posting a linky at the bottom of my post so that you can share your Soundtrack Saturday playlist for other bloggers and blog readers to find.
As with all bookish memes, there are a few easy steps to follow to help you create your own perfect Soundtrack Saturday post:
Choose a book that you've read or are currently reading - any book is fine as long as you can create a playlist for it
Create a full (10+songs) or a mini (four songs) playlist for the book of your choosing

For more detailed instructions on the different types of soundtracks and how to make them, please visit the meme's homepage.

Please credit me somewhere in your post. It can be as simple as "Soundtrack Saturday is a weekly meme that was created by Erin at The Hardcover Lover."
Leave a comment on my blog post if you enjoy the feature
Add your name to the link-up tool at the bottom of the post
This Song Will Save Your Life
by Leila Sales
If there's any book out there that's meant for music lovers like Rory Gilmore and Lane Kim, it's This Song Will Save Your Life by Leila Sales. As I was reading this amazing novel (seriously.. I mean amazing!), I was in awe of all of the music that Elise is surrounded by! It's literally heaven!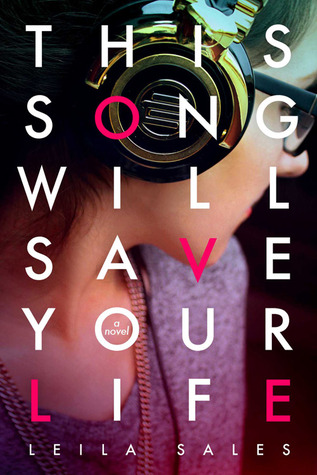 Now I promised you a surprise this week, right? I literally put page flags on every page of the book that mentioned a song or an artist. Most every song that was mentioned in the book made my playlist, and I added quite a few more based on how many times an artist was mentioned. (And yes... I probably went a little too heavy on The Smiths, but they're The Smiths!) If you've read this book, you're probably thinking about how many page flags I had to use, right? Oh, and if that's not enough, I took the recommended listening that Leila Sales put in the acknowledgments, and I've come up with a playlist that's pretty long. I think there are like sixty songs or something...
Okay... so there is my massive playlist for
This Song Will Save Your Life
. I know it's not my most original playlist, but you can't go wrong by including every song that's written into a book. Those songs are there because they are important to Elise, so they are important to the readers. And hey... they are fun to listen to!
Oh, and if you're participating in Soundtrack Saturday this week, be sure to link up below so I can check out your playlists. (I seriously will! I know it sometimes takes a while for me to get to them because I work on Saturdays, but I will get to them! Pinky swear!)