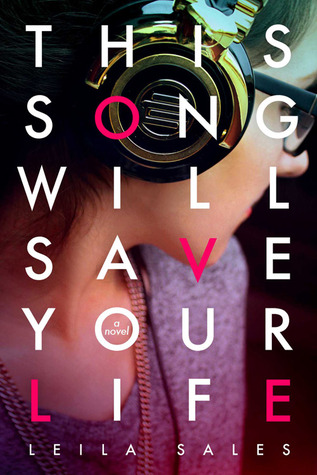 Title: This Song Will Save Your Life
Author: Leila Sales
Publisher: Farrar Straus and Giroux Books for Young Readers
Publication Date: September 17, 2013
Source: Purchased
Making friends has never been Elise Dembowski's strong suit. All throughout her life, she's been the butt of every joke and the outsider in every conversation. When a final attempt at popularity fails, Elise nearly gives up. Then she stumbles upon a warehouse party where she meets Vicky, a girl in a band who accepts her; Char, a cute, yet mysterious disc jockey; Pippa, a carefree spirit from England; and most importantly, a love for DJing.

Told in a refreshingly genuine and laugh-out-loud funny voice,This Song Will Save Your Life is an exuberant novel about identity, friendship, and the power of music to bring people together.
My Review
I bought This Song Will Save Your Life a few years ago, and I've been meaning to read it ever since. But other things and obligations got in the way. So when I decided to start reading more of what's already on my shelves, instead of the newly added books and ARCs, this title got bumped up a few spots on my TBR. I'll admit that I was very concerned before I read This Song Will Save Your Life. So many people have loved it, and I didn't want to be the black sheep. However, things worked out for me, and I can now say that I love this book. This Song Will Save Your Life is realistic, emotional, and dazzling.
Elise Dembowski doesn't fit in at school. She's never fit in at school, and it's really starting to take a toll on her mental health. All she's ever wanted were a few people to call friends, and she doesn't even have them. About a year after taking an X-Acto knife to her wrist, she walks the streets of her neighborhood to tire herself out so she can fall asleep. She never expects to discover an underground dance party where she makes friends and eventually learns about her talent for DJing.
First things first... I feel like I should let people know that there are some triggers in this book. In the first few chapters, Ms. Sales mentions cutting, suicide, and depression. Nothing about these moments or Elise's thoughts are glossed over. She's upfront about them with herself throughout the entire book. There were some graphic moments when I squirmed, but truthfully, I thought that everything was handled in a realistic way.
Ms. Sales created an interesting bunch of characters in This Song Will Save Your Life, and all of them represent the different worlds in which Elise lives. I really enjoyed reading this story through Elise's eyes. While I've never DJed, I was still able to relate to Elise. There have been more than a few times when I've wished that I could just fit in with everyone else, so her feelings hit close to home. I felt for her, but I was also so proud of her when she started to realize her worth.

Elise is the child of divorced parents, and for the most part, she splits her time between their houses. I wouldn't say that she has terrible parents, but Elise has learned how to hide things from her mother, father, stepfather, and younger siblings. I liked how her parents were concerned for her, especially after her cutting incident. Even though they aren't on great terms, they are determined to help their daughter.

Elise also has her life at school, where she doesn't have very many friends. Yes, she has some bullies, but for the most part, she's ignored by her peers and is very lonely. She does eventually make two friends, Chava and Sally, but it's Elise who isn't invested in them. To her, they are just people to eat lunch with so she won't seem so lonely. I really liked their presence in the book. I don't want to spoil the book for anyone who hasn't read it, but these two pick up on something that's going around about Elise, and they are very concerned for her. Elise might not see them as great friends, but they proved to be loyal and trustworthy peers for her.

Elise also has her underground dance club world, and this is where mostly everything in the novel takes place. This is where she meets people that she can just be herself with. Mel, Char, Pippa, and Vicky take Elise in on her first night at Start, and they become a huge presence in her life. She even finds herself in conflict with some of the characters, and she does a lot of growing up with her new friends.
This Song Will Save Your Life
is a wonderfully written book about a girl who just longs to fit in. I honestly didn't expect myself to become so invested in it, but I can tell you that it is now one of my favorite books. Anyone who has read and enjoyed Leila's other books would enjoy
This Song Will Save Your Life
. I would recommend this to any introverted reader who has ever longed to fit in, but also to anyone who enjoys a good coming-of-age story.
Leila Sales was born in 1984 and grew up outside of Boston, Massachusetts.

She graduated from the University of Chicago with a degree in psychology in 2006. Now she lives in Brooklyn, New York, and works in the mostly glamorous world of children's book publishing. Leila spends most of her time thinking about sleeping, kittens, dance parties, and stories that she wants to write.