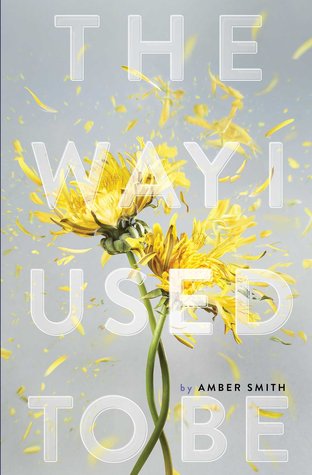 Title: The Way I Used to Be
Author: Amber Smith
Publisher: Margaret K. McElderry Books
Publication Date: March 22, 2016
Format: Hardcover
Source: Margaret K. McElderry Books for Review Consideration
Eden was always good at being good. Starting high school didn't change who she was. But the night her brother's best friend rapes her, Eden's world capsizes.

What was once simple, is now complex. What Eden once loved—who she once loved—she now hates. What she thought she knew to be true, is now lies. Nothing makes sense anymore, and she knows she's supposed to tell someone what happened but she can't. So she buries it instead. And she buries the way she used to be.



Told in four parts—freshman, sophomore, junior, and senior year -

this provocative debut reveals the deep cuts of trauma. But it also demonstrates one young woman's strength as she navigates the disappointment and unbearable pains of adolescence, of first love and first heartbreak, of friendships broken and rebuilt, and while learning to embrace a power of survival she never knew she had hidden within her heart.
My Review
Okay... I'll admit it. When I first saw the synopsis for The Way I Used to Be by Amber Smith, I was concerned. You see... a few years ago I read Speak, and I didn't like it at all. I was afraid that if I read The Way I Used to Be, it would be like reading Speak all over again. The Way I Used to Be completely surprised me. Yes, there are similarities to Speak, but this novel stands on its own. Amber Smith brings readers a new kind of YA hero who deals with the terrible ordeal of rape but still manages to find a voice and herself on her way to becoming a survivor.
Amber Smith's writing is addictive in her debut novel. I read this book in mostly one sitting and that's because of the writing. Ms. Smith gives Eden a tremendous voice. Reading through Eden's high school experience is almost like conversing with a friend. The book is easy going and easily accessible, even for younger teens, despite the heavy content matter.
Obviously there are some trigger warnings in this book, most of them being about sexual and mental abuse. While I've never been in the position that Eden has been in, I found it strikingly realistic. Yes, people are afraid to speak up when something bad happens to them, and readers will see that happen to Eden. She's fully aware of everything that happened, but she misses her opportunity to say something, and just keeps trying to live as normal of a life as possible. Readers will also see her make some decisions that are directly related to her rape, and while they might be hard to read, they are real. Those decisions eventually help her find out who she is.
What I really liked about The Way I Used to Be was the plot. I'll be honest... It's not every day that I choose a book about sexual assault to read, and it's a topic that I usually don't expect to enjoy because it's tough to read about. I really enjoyed seeing how Ms. Smith wrote Eden's story. It's told in four parts, starting during Eden's freshman year of high school, more specifically the night of the rape. While Ms. Smith doesn't explore every waking moment of Eden's school career, it's enough to see her every year near the anniversary of what happened. I also really liked seeing how things change from each Christmas to the next between Eden and her family. Each year is just as emotional as the last, and readers will stay up late into the night to complete each part of the book.

The characters in The Way I Used to Be are all very flawed but still very realistic.

Our story's narrator, Eden, is trying to go through life after a very traumatic event. I'll be honest... she definitely has her moments. There are times when she's likable, but there are also times when she's one of the most unlikable characters in the book. But it makes sense for her to be that way!

Eden's family is present in the novel, but she does her best to exclude them from her life. At first, Eden loves her family, but over time, she starts to blame them for everything that happened to her, especially because they allowed her rapist to come into their home. She once loved being around her parents and her older brother, but she starts to despise them. She starts to distance herself from her family, leaving them confused and angry with her.

Eden's group of friends also fluctuates throughout the novel. For the most part, her best friend, Mara, is an important person in Eden's life. Although Eden doesn't tell Mara her secret, she tries to remain friends with Mara, even when new and interesting people are entering Mara's life. These new people include Stephen/Steve and Cameron. Together, these three are a huge part of Eden's four years of high school. While they are there for Eden, she doesn't let them in on anything. They are confused and lost. They don't understand why Eden acts the way that she does, and eventually they have to make a decision about her. There are also a few men in Eden's life that she meets while in high school. A few of these people mean nothing to Eden, but some of them stick with her for a long time.
I really enjoyed The Way I Used to Be by Amber Smith. While the novel is a bit scary because of the emotional nature, it's worth the read because it tells a story that readers need to know about. The book is terrifying and beautiful all at the same time, and it's one that will stick with readers for a long time to come.
Amber Smith is the New York Times bestselling author of The Way I Used to Be. Fueled by a lifelong passion for the arts, story, and creative expression, Amber graduated from art school with a BFA in Painting and went on to earn her master's degree in Art History. When she's not writing she's usually reading, but can also be found in her studio making art or working as an art consultant.

A native of Buffalo, NY, Amber now lives in Charlotte, NC with her two dogs. She has also written on the topics of art history and modern and contemporary art.The Way I Used to Be is her first novel.