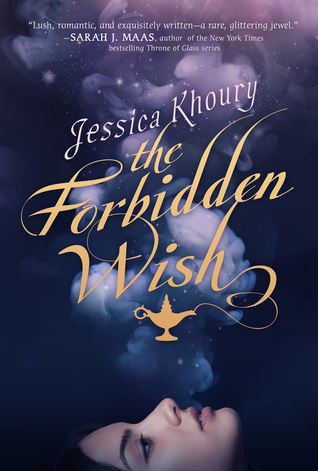 Title: The Forbidden Wish
Author: Jessica Khoury
Publisher: Razorbill
Publication Date: February 23, 2016
She is the most powerful Jinni of all. He is a boy from the streets. Their love will shake the world...

When Aladdin discovers Zahra's jinni lamp, Zahra is thrust back into a world she hasn't seen in hundreds of years -- a world where magic is forbidden and Zahra's very existence is illegal. She must disguise herself to stay alive, using ancient shape-shifting magic, until her new master has selected his three wishes.

But when the King of the Jinn offers Zahra a chance to be free of her lamp forever, she seizes the opportunity—only to discover she is falling in love with Aladdin. When saving herself means betraying him, Zahra must decide once and for all: is winning her freedom worth losing her heart?
As time unravels and her enemies close in, Zahra finds herself suspended between danger and desire in this dazzling retelling of Aladdin from acclaimed author Jessica Khoury.
Caspida's Playlist
A powerful girl needs a powerful playlist. Leading a double life is exhausting! Princess by day and vigilante by night, Caspida's got to kick back and chill sometime, and when she does, these are the songs that will help her recharge before diving back into the high-stress world of courtly intrigue.
1. "Who Run the World" by Beyonce
I'm pretty sure Caspida and her handmaidens jam to this on a regular basis. It's their theme song, basically.
2. "Marrakesh Night Market" by Loreena McKennitt
I hear this song playing when the princess and her handmaidens are sneaking around the city at night, undermining the Vizier's power and being general badasses.
3. "Fight Song" by Rachel Platton
Caspida's got a tough fight ahead if she's to wrest her kingdom from her uncle's control, and few believe she can do it—so I'm sure she listens to this song every morning to remind herself she can totally kick butt anyway.
4. "Beneath a Phrygian Sky" by Loreena McKennitt
This beautiful song about persevering through battle and drawing strength from the voices of the past might as well have been written just for Caspida. It perfectly encapsulates her struggle to win her crown and the inspiration she takes from her ancestress, Roshana of Neruby.
5. "Seven Devils" by Florence + the Machine
Caspida is on a mission to take back her kingdom, and this song could very well be her anthem!
6. "Warriors" by Imagine Dragons
Is there a better song for a warrior princess and her deadly handmaidens? I submit that there is not.
7. "Titanium" by David Guetta (ft. Sia)
Every time Caspida loses political ground to her scheming uncle, I imagine she listens to this song a few times before going out and kicking butt all over again.
8. "Hero" by Mariah Carey
She may be a side character, but Caspida is definitely the heroine of her own story, and she totally deserves this song.
9. "Stronger" by Kelly Clarkson
An anthem fit for a warrior princess—which Caspida is, naturally.
10. "Two Princes" by Spin Doctors
A girl's got better things to do than be wooed all day, even by two princes desperate to please her every whim, but Caspida handles this—as she does all things—with total aplomb.
So there you have it - a playlist for the bad ass princess, Caspida. If you haven't picked up a copy of
The Forbidden Wish
yet, you must right now! I loved the book, and I really loved Caspida. She's a one-of-a-kind character that totally deserves her own book! (Pretty please, Jessica?)