I love books. I love music. I love it when the two are paired up, so I thought I'd create a feature to highlight both of my loves.
Soundtrack Saturday is a meme created and hosted by me, right here on The Hardcover Lover! So what is Soundtrack Saturday? It's a feature about bookish playlists! Each Saturday, I choose a book and post a playlist based on it! But that's not all. You can participate, too! I'm inviting all interested book bloggers to participate in this meme! Each week, I'll be posting a linky at the bottom of my post so that you can share your Soundtrack Saturday playlist for other bloggers and blog readers to find.
As with all bookish memes, there are a few easy steps to follow to help you create your own perfect Soundtrack Saturday post:
Choose a book that you've read or are currently reading - any book is fine as long as you can create a playlist for it
Create a full (10+songs) or a mini (four songs) playlist for the book of your choosing

For more detailed instructions on the different types of soundtracks and how to make them, please visit the meme's homepage.

Please credit me somewhere in your post. It can be as simple as "Soundtrack Saturday is a weekly meme that was created by Erin at The Hardcover Lover."
Leave a comment on my blog post if you enjoy the feature
Add your name to the link-up tool at the bottom of the post
The Siren
I recently read the newly edited and rereleased edition of Kiera Cass' debut novel, The Siren. Although I wasn't the biggest fan of the book, I thought that there were a lot of great moments in it, and I thought of quite a few songs that would go with the book perfectly. (I even dove into my memory to bring some songs from my childhood to this playlist!) I was also fascinated by the idea of sirens, and I wanted to include a few siren songs, too. One is from the book, but another is one I found on YouTube that I really think people will enjoy.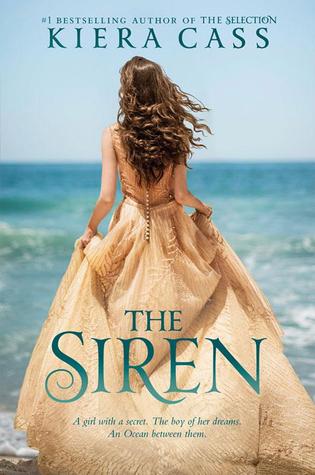 1. "Siren's Song" composed by Harry Gregson Williams
2. "Deep Wide Ocean" by The Jezabels
3. "The First Time I Ever Saw Your Face" by Roberta Flack
4. "That's What Girls Do" by No Secrets
5. "Love Story" by Taylor Swift
6. "A Year Without Rain" by Selena Gomez and the Scene
7. "Siren Song" by Kiera Cass*
8. "100 Years" by Five for Fighting
9. "Orinoco Flow" by Enya
10. "All Too Well" by Taylor Swift
11. "Thinking Out Loud" by Ed Sheeran
12. "Home" by Phillip Phillips
13. "Somewhere Beyond the Sea" by Frank Sinatra
I hope you've enjoyed my soundtrack for
The Siren
. It's a little eclectic, but I think the themes of the songs go well with some of the themes and events in the book. Comment below if you like my choices or even if you'd want to add a few of your own!
Also, don't forget to link up below! I'd love to see what playlists you're all coming up with!