Hey, everyone! Welcome to my stop on the blog tour for Amber Smith's novel, The Way I Used to Be. I've got an extra special Top Ten post from Amber for you today. I really hope you're ready to see just why Amber wrote The Way I Used to Be.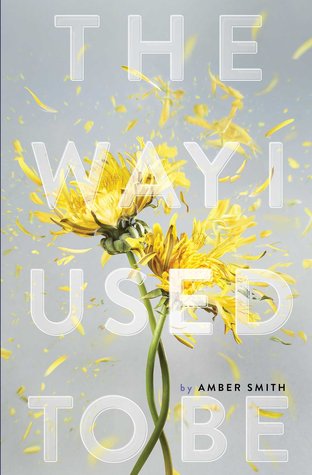 Title: The Way I Used to Be
Author: Amber Smith
Publisher: Margaret K. McElderry Books
Publication Date: March 22, 2016
Eden was always good at being good. Starting high school didn't change who she was. But the night her brother's best friend rapes her, Eden's world capsizes.

What was once simple, is now complex. What Eden once loved—who she once loved—she now hates. What she thought she knew to be true, is now lies. Nothing makes sense anymore, and she knows she's supposed to tell someone what happened but she can't. So she buries it instead. And she buries the way she used to be.

Told in four parts—freshman, sophomore, junior, and senior year.
Top Ten Reasons Why Amber Wrote The Way I Used to Be
1. First and foremost I wrote THE WAY I USED TO BE because I needed a place to work out my own thoughts and feelings about sexual violence and abuse.
2. Because abuse is so pervasive, yet stories about surviving trauma are too often silenced.
3. I think we need more and more stories about people—young women in particular—standing up to abuse in all its forms, demanding to seen and heard.
4. We need stories that will expand our ideas of what it means to be a survivor, and to understand that there is no one right way to heal.
5. Because going through traumatic and potentially damaging experiences like rape and abuse can leave us feeling isolated, voiceless, and disempowered.
6. Stories that reflect these experiences can show us that, in fact, we're not really alone, that we are stronger than we think, and that we have the right to ask for the help we need.
7. The books that saw me through the most challenging times in my life were those that gave me a voice when I felt as though I didn't have one of my own.
8. I wanted to write a book that could, perhaps, be that for someone else.
9. Because this story had been tapping on my shoulder for years, waiting for me to turn around.
10. And then I couldn't not write it.
Amber Smith grew up in Buffalo, NY and now lives in Charlotte, NC with her two dogs. After graduating from art school with a BFA in Painting, she earned her MA in Art History. When she's not writing, she is working as a curator and art consultant. She has also written on the topics of art history and modern and contemporary art. The Way I Used to Be is her first novel.
Alright, folks! Based on Amber's list, I'm ready for an empowering and emotional novel. I love every single reason that she's given us, and I completely agree with her about the fact that survivor stories are often silenced. We need more of them, and I'm so glad that this book is out in the word.


Giveaway
Follow the Tour