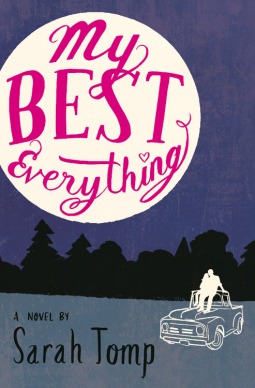 Title:
My Best Everything
Author: Sarah Tomp
Publisher: Little, Brown Books for Young Readers
Publication Date: March 3, 2015
Source: Publisher via NetGalley
Rating: ☆☆☆
You say it was all meant to be. You and me. The way we met. Our secrets in the woods. Even the way it all exploded. It was simply a matter of fate.

Maybe if you were here to tell me again, to explain it one more time, then maybe I wouldn't feel so uncertain. But I'm going back to the beginning on my own. To see what happened and why.

Luisa "Lulu" Mendez has just finished her final year of high school in a small Virginia town, determined to move on and leave her job at the local junkyard behind. So when her father loses her college tuition money, Lulu needs a new ticket out.

Desperate for funds, she cooks up the (definitely illegal) plan to make and sell moonshine with her friends, Roni and Bucky. Quickly realizing they're out of their depth, Lulu turns to Mason: a local boy who's always seemed like a dead end. As Mason guides Lulu through the secret world of moonshine, it looks like her plan might actually work. But can she leave town before she loses everything – including her heart?

The summer walks the line between toxic and intoxicating. My Best Everything is Lulu's letter to Mason – though is it an apology, a good-bye, or a love letter?
My Review
My Best Everything by Sarah Tomp is as sweet as molasses when it comes to the plot and friendships, but I felt like it lacked that little extra kick to make it a little more buzz-worthy and really make it a superb book for me. While the book is not as great as I was expecting, it's a wonderful debut novel that will leave readers wanting more from Ms. Tomp. It's one of those books that you'll want to read on vacation or at the beach.

While reading, I was concerned about how people from the South will see the book, but I'm not from the South, so I can't really speak for some of the traditions and culture included.

I really liked a lot of the characters in this novel. Lulu is the goody goody and smart girl who just wants to get away from the small town where she was born and raised. On her journey out of town, she faces many challenges that will test her faith and reputation. Lulu's best friend, Roni, is content with the small town life until something huge is thrown at her, and I really like how she handled it. The girls are accompanied by their significant others - Bucky for Roni and Mason for Lulu. I didn't care too much for Bucky, but I found that he redeemed himself a bit at the end of the book. Mason was a good match personality wise for Lulu, but I thought he was a bit too old for her. The rest of the characters, including rival shiners and junkyard employees help to round out this southern tale.

My Best Everything is written unlike any other book I've ever read because it's written like a first person narrative, but also like a giant love letter. I thought the narrative was cute and unique, but sometimes it bothered me because the narrator Lulu is basically rehashing everything that happened over the summer to her boyfriend who experienced most of it with her. I also found that there were a lot of moonshine metaphors. I expected some of them, but by the end of the book, it got a little repetitive.

The professionals at NetGalley recommended this novel for fans of Rainbow Rowell, but I think fans of Sarah Dessen will like this one a little more because there's a little bit of romance and it's balanced out with some intense issues. Personally, I would recommend this one for older teens (and adults who like YA) because it is a bit more mature than a lot of the YA books on the market.