Happy Saturday, everyone! I hope you've been enjoying your weekend, and that it's starting to warm up if you've been dealing with an eternal winter.
If you've been following The Hardcover Lover for a while, you know just what happens on Saturdays on the blog. Yup! That's right - Soundtrack Saturday! If you've never noticed the meme before or are just new to the blog, I'll explain things for you:
Soundtrack Saturday is a book meme created and hosted by me so I can share my love of music with my readers. But this is a book blog, so of course, books are involved! The soundtracks are actually book soundtracks! As I'm reading, or as soon as I finish, I compile a list of songs that go well with the book.
As with all bookish memes, there are a few steps to follow to help you create your own Soundtrack Saturday post:
Choose a book that you've read
Create a mini (four songs) or full soundtrack (ten-fifteen songs) for that book based on characters and plot details


For more detailed instructions, please visit the meme's homepage.

Please credit me somewhere in your post


It can be as simple as "Soundtrack Saturday was created by Erin at The Hardcover Lover."

Leave a comment on my blog post if you enjoy the feature
Add your name to the link-up tool
This week's book for Soundtrack Saturday is
Fairest
by Marissa Meyer. I loved reading this one and as I was reading, I had to jot down a bunch of songs that came to mind!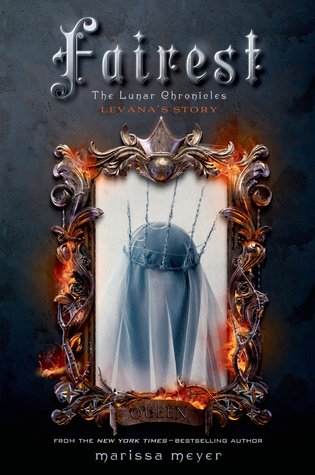 "Young and Beautiful" by Lana Del Ray
"Love is a Battlefield" by Pat Benatar
"Mirror" by Ellie Goulding
"Everybody Wants to Rule the World" by Lorde
"Night Changes" by One Direction
"Burning Gold" by Christina Perri
"Wasting All These Tears" by Cassadee Pope
"Devil May Cry" by The Weeknd
"Seven Devils" by Florence + The Machine
"Somebody That I Used to Know" by Goyte
"Dust to Dust" by The Civil Wars
"Glory and Gore" by Lorde
So there's my Soundtrack Saturday. I wanted to catch some of Levana's hopeful moments and many of her evil moments. Let me know if you'd add any other songs to the playlist.
Be sure to link up if you created your own Soundtrack Saturday! I'd love to see what everyone's reading.