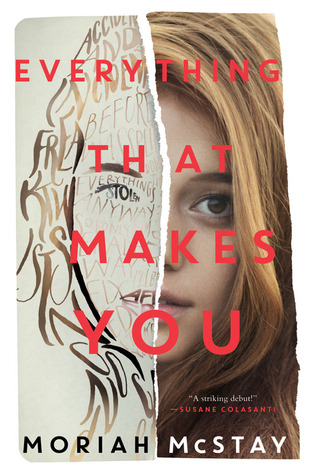 Title:
Everything That Makes You
Author: Moriah McStay
Publisher: Katherine Tegen Books
Publication Date: March 17, 2015
Rating: ☆☆
Meet Fiona Doyle. The thick ridges of scar tissue on her face are from an accident twelve years ago. Fiona has notebooks full of songs she's written about her frustrations, her dreams, and about her massive crush on beautiful uber-jock Trent McKinnon. If she can't even find the courage to look Trent straight in his beautiful blue eyes, she sure isn't brave enough to play or sing any of her songs in public. But something's changing in Fiona. She can't be defined by her scars anymore.

And what if there hadn't been an accident? Meet Fi Doyle. Fi is the top-rated female high school lacrosse player in the state, heading straight to Northwestern on a full ride. She's got more important things to deal with than her best friend Trent McKinnon, who's been different ever since the kiss. When her luck goes south, even lacrosse can't define her anymore. When you've always been the best at something, one dumb move can screw everything up. Can Fi fight back?

Hasn't everyone wondered what if? In this daring debut novel, Moriah McStay gives us the rare opportunity to see what might have happened if things were different. Maybe luck determines our paths. But maybe it's who we are that determines our luck.
My Review
Everything That Makes You, Moriah McStay's debut, is a young adult novel about one girl with two very different stories to tell. One story is the tale of Fiona Doyle and her late teenage years and how they were affected by an accident she had when she was just five years old. The other story belongs to Fi Doyle, and it's the story of what could have been if the accident never happened. It's a very intriguing concept, and one I've never encountered in a book before, but McStay does not execute the concept very well. In fact, I'd say it was poorly done, and the way that she organizes the stories leads to frustrating emotions and a lack of empathy for the characters in the book.
For much of the book, I found myself completely frustrated. Yes, both stories are interesting, but they don't complement each other well, and I was so conflicted when it came to my feelings on the characters but we'll get to that later. I found myself confused, especially when things from one life would blend with the other life, and it was so exasperating. Sometimes, the overlaps were done beautifully, but in the end, my thirst for something unique wasn't quenched. I guess I just wanted something that was more emotional and thought-provoking, but instead, I felt unsatisfied by the end of the novel.
I'm not a person to tell someone not to read a book, but if you're a reader who despises love triangles, steer clear of this one. Fiona and Fi both find themselves involved in love triangles, and sometimes... love squares/rhombuses/quadrilaterals. I'm not the kind of reader who avoids love triangles or the type of person dislike a book because of them, but the inclusion of love triangles and squares in
Everything That Makes You
was too much for me. Why? Because with everything going on in the alternate universes, it just makes things even crazier and harder to keep track of.
Fiona is a singer/songwriter, and her alternate persona is an amazing athlete. They are about as different as people can get. I found that I wasn't really able to connect with Fiona or Fi, and while that doesn't necessarily ruin a book for me, there was just something about the way that both Fiona and Fi were characterized that angered me and made me dislike this book. Both Fiona and Fi treat people terribly, and sometimes for no reason at all. Both have had something happen to them to frustrate them, but it quickly became annoying.
Ryan is Fiona/Fi's older brother. In Fiona's world, he's a skilled soccer star, but in Fi's world, he's an average lacrosse player. In the beginning of Fiona's story is a very caring older brother, and I found that I really liked him. Things get tough for him by the end of Fiona's story, but he redeems himself and the sweetness returns. In Fi's story, he's not as important, and he's just not a character that readers will remember.
Trent is another character who prominently appears in parts of both stories. He's your typical jock in Fiona's story, and he's extremely arrogant. He kind of disappears after high school, and fades off into the distance. In Fi's story, he's the much sweeter best friend, and I was rooting for him the whole time. I liked how McStay ended things for his characters in Fi's story. It was fulfilling.
I don't want to post any spoilers, but I will tell you that Marcus is a vital part of Fi's story. She meets him at a coffeehouse, and he becomes a main character. While he's not mentioned a lot in Fi's story, he's still important, and I loved his role in it. It was highly predicable, but I found that my heart was warmed the most by it.
Jackson is the twin brother of Marcus. I felt like he was the glue of the novel because he plays important roles in both Fiona and Fi's lives but those roles of importance come at very different times and in very different situations. If anything, the Jackson in Fiona's world was my favorite, but Fi's Jackson wasn't so bad by the end of the novel
Lucy is Fiona's best friend, but I had a love/hate relationship with her. I just felt like she wasn't in the book as much as a best friend should be. She just kind of pops in and out in certain parts. She's sometimes really mean to Fiona, and it bothered me, but I can understand her frustration with her best friend. She doesn't play a big role in Fi's world.
David is another character who is really only significant in Fiona's world, only to be mistreated by Fiona. To be honest, he didn't seem as important as he should have been, and it was just another failed attempt at characterization by McStay.
At the end of the day, Everything That Makes You had its enjoyable moments and many events in the plot kept me reading, but it could have been a lot better. For me, the novel just had too many things about it that really bothered me, and that's why I rated it two stars. I wouldn't say that I hated the book, but the frustration I felt definitely got to me and made it not as enjoyable as I thought it would be.