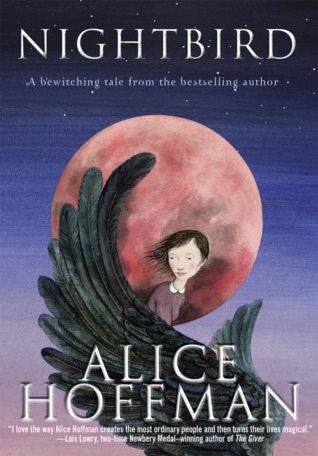 Title:
Nightbird
Author: Alice Hoffman
Publisher: Wendy Lamb Books
Publication Date: March 10, 2015
Rating: ☆☆☆
An enchanting novel from bestselling author Alice Hoffman: a charmed New England village, a family secret, and a friendship destined to defeat a witch.

"Some things could only be found in Sidwell it seemed: pink apples, black owls, and my brother, James."

Twelve-year-old Twig's town in the Berkshires is said to hide a winged beast, the Monster of Sidwell, and the rumors draw as many tourists as the town's famed Pink apple orchards. Twig lives on the orchard with her mysterious brother James and her reclusive mother, a baker of irresistible apple pies. Because of a family secret - an ancient curse - Twig has had to isolate herself from other kids. Then a family with two girls, Julia and Agate, moves into the cottage next door. They are descendants of the witch who put the spell on Twig's family. But Julia turns out to be Twig's first true friend, and her ally in trying to undo the curse and smooth the path to true love for Agate and James.
My Review
Nightbird is a middle grade novel by bestselling author, Alice Hoffman. Before reading this book, I'd never read anything by Ms. Hoffman before, which is kind of shocking when you consider the fact that she's written so many books and has had so many bestsellers. Unfortunately, I wasn't too impressed with Nightbird, Ms. Hoffman's first middle grade novel, and I don't know how I feel about possibly reading more books by her.

I had a hard time connecting with one of the stories in Nightbird, and unfortunately, that story was the main part of the plot - Twig's tale about the Sidwell Monster and her life. While the plot of Twig's story was both cutesy and serious, I felt like it wasn't very engaging. There were many times that the narration felt stiff and boring.

I've already mentioned that the narration was dull, but I did not mention that Twig's voice just didn't feel like a middle grade voice to me. When I read middle grade, I want to feel that excitement of a preteen, but I just didn't feel that at all with this book. Twig's definitely very mature for her age due to family circumstances, and I think that makes her sound more like an adult instead of a kid. I just keep thinking that a lot of middle grade readers would pick up on this and feel an extreme disconnect to Twig and the novel.

The book did pick up a little at the end, and I really enjoyed the last two chapters, especially because the ending is quite satisfying and heart-warming. I just wish the rest of the book would have had the same feel to it. All in all, it wasn't a terrible read, but when I see something labeled as magical realism, I really want to feel that perfected hybrid balance of real world and fantasy.

Was this the book for me? No, but I can see this one being treasured by kids for years to come because of the light fantastical elements and somewhat intriguing plot. I would recommend this to middle grade readers who are very comfortable with reading magical realism. I'd also recommend this to middle school English/ELA teachers because I can see a lot of benefit to using this book in class to teach about magical realism, prejudice, family values, and friendship.

About Alice Hoffman
Alice Hoffman is the author of more than thirty bestselling works of fiction, including Practical Magic, also a major motion picture with Sandra Bullock and Nicole Kidman; Here On Earth, an Oprah Book Club selection; the highly praised historical novel The Dovekeepers; and, most recently, The Museum of Extraordinary Things.
Her books for teens include Green Angel, Green Witch, Incantation, The Foretelling, and Aquamarine, also a motion picture with Emma Roberts.