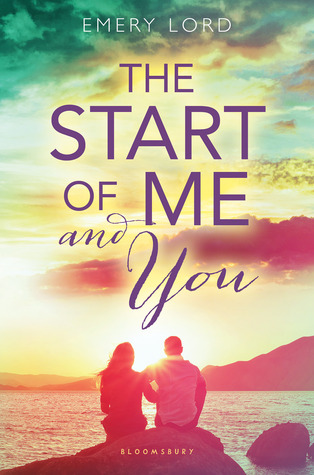 Title:
The Start of Me and You
Author: Emery Lord
Publisher: Bloomsbury
Following her pitch-perfect debut Open Road Summer, Emery Lord pens another gorgeous story of best friends, new love, & second chances.

Brimming with heartfelt relationships and authentic high-school dynamics The Start of Me and You proves that it's never too late for second chances.

It's been a year since it happened—when Paige Hancock's first boyfriend died in an accident. After shutting out the world for two years, Paige is finally ready for a second chance at high school . . . and she has a plan. First: Get her old crush, Ryan Chase, to date her—the perfect way to convince everyone she's back to normal. Next: Join a club—simple, it's high school after all. But when Ryan's sweet, nerdy cousin, Max, moves to town and recruits Paige for the Quiz Bowl team (of all things!) her perfect plan is thrown for a serious loop. Will Paige be able to face her fears and finally open herself up to the life she was meant to live?
My Review
Emery Lord nails it again with her sophomore novel by blending serious issues with a light feel that will make readers beg for more. The Start of Me and You includes themes of friendship, self-discovery, and healing, and it is perfection at its finest. You need to add this to your TBR lists right now because it's just so emotionally powerful without being too overwhelming. I'd call this book 2015's Feel Good Book of the Year if I had that sort of power, but I don't, so I'm just telling you that it's a "feel-good" kind of book that you won't want to miss.
Emery Lord is the author that I wish would have been around when I was in high school. Girls in the 13-18 (and beyond) age range should be reading Emery's books, especially The Start of Me and You because she includes such wonderful and positive friendships, and the friendships in this one are stellar. Personally, I feel like friendships kind of get brushed aside in a lot of contemporary YA novels to focus more on the romance, but Emery makes sure that Paige and her best friends are center stage throughout most of the novel. I loved reading about these four lovely girls (Paige, Tessa, Kayleigh, and Morgan), and I'm sure many teenage girls will be able to relate to them.
Ms. Lord also tackles the very difficult subject of grief in this novel, and she does it flawlessly. It's hard to lose anyone when you're at a young age, especially to tragedy because it's just confusing. There are so many highs and lows that come with losing a loved one or a friend, and Lord captures that grief, heartbreak, and confusion and bottles it up in Paige to create a completely realistic character and plot.
Yes... there is romance in this novel, and I adored how Emery wrote planned and wrote it in this book. The reader knows something is eventually going to happen, but they don't know when. I was anticipating how things would develop the whole time, and I was completely satisfied when the big moment happened. I had a huge grin on my face, and I couldn't have asked for anything more adorable.
What I Loved:
Paige's personal history - She's intelligent but she's also very pop-culture savvy (like Lorelai and Rory Gilmore), but she's very aware of her problems and how they might affect the people around her.
Paige's circle of girlfriends - They are all so different and unique, but they are always there for one another.
Max Watson - He'll make you swoon, but that's not all he's good for. He's a truly remarkable character, and one that will be hard to forget.
Cameron - I'm a sucker for books with sister relationships, and Paige and Cameron have a rocky, but still loving (and realistic feeling) relationship.
Ms. Pepper - I'm an English teacher, so I love it when English teachers are pretty big characters in a book. Ms. Pepper is pretty awesome, and I loved her.
One surprise reference - Emery alludes to something in her previous book in The Start of Me and You, and I almost melted.
The pop culture references - The Start of Me and You is full of pop culture references that will make any pop culture or trivia junkie geek out.
Would I recommend this book? Absolutely and to any and all fans of contemporary YA! It's just one of those books that all teenage girls should and must read, and I would tell any YA/school librarian to order it and display it immediately! I even tried to pass it off to my sister as soon as I finished reading it so she could experience Emery's wonderful story of finding yourself and beginning again. This book deserves more than just five stars because it's just that beautiful.
About Emery Lord

Emery Lord is a 20-something Midwestern girl who writes stories about high school and best friends and weird families and the crushes that make you feel combustibly alive and also more awkward than you thought was possible. If you're not sure how to pronounce Emery, try slurring the name "Emily," and that will get you really close.

She lives in Cincinnati in a 100 year-old pink row house with her BFF/husband, a closet full of dresses, and lots of books. If karaoke-ing in grocery store aisles or guzzling coffee while impulse shopping were illegal, Emery would be writing her overemotional YA books from jail. Also, she makes up words sometimes. Like combustibly.

Open Road Summer, her first YA novel, is out now with Bloomsbury. Her second, The Start of Me and You, will be released on March 31, 2015.