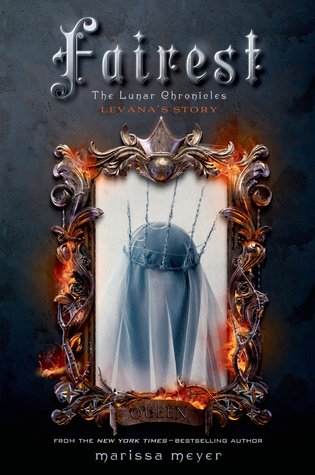 Title:
Fairest
(The Lunar Chronicles 3.5)
Series: The Lunar Chronicles
Author: Marissa Meyer
Publisher: Feiwel & Friends
Publication Date: January 27, 2015
Rating: ☆☆☆
In this stunning bridge book between Cress and Winter in the bestselling Lunar Chronicles, Queen Levana's story is finally told.

Mirror, mirror on the wall,
Who is the fairest of them all?

Fans of the Lunar Chronicles know Queen Levana as a ruler who uses her "glamour" to gain power. But long before she crossed paths with Cinder, Scarlet, and Cress, Levana lived a very different story – a story that has never been told . . . until now.

Marissa Meyer spins yet another unforgettable tale about love and war, deceit and death. This extraordinary book includes full-color art and an excerpt from Winter, the next book in the Lunar Chronicles series.
My Review
When I first started reading Fairest by Marissa Meyer, I was a little confused as to why it was being labeled as a bridge book or a midquel. Most of Levana's story takes place before the events in Cinder, Scarlet, and Cress. Though the novel definitely connects Queen Levana to all of the main characters in The Lunar Chronicles, I just don't see how it truly operates as a bridge book because it contains a lot of new information. Even after finishing the book, it felt more like a prequel instead of a bridge book. It could very well have been expanded and been a full length novel just like the other books in the series.

After binge-reading Cinder, Scarlet, and Cress this past summer, I was excited to learn more about this scientifically thrilling world of Marissa Meyer's. I will admit that I was more looking forward to Winter, but I was also looking forward to Fairest. After finishing Fairest, I found myself a bit disappointed but not enough to make me dislike the book. I just wanted more. The plot in Fairest is set, but the world-building really isn't. I was hoping to learn more about Luna and its technological developments, but Meyer briefly mentions what readers will remember from the other books in the series. I was also hoping to get a better image of Luna in my mind, but what Meyer describes isn't quite fulfilling (but the art on the inside is!).

As you know, this is Levana's story, and it starts when she is fifteen. She finds herself in love and ready to marry this man. Unfortunately, things don't work out for Levana and her husband. You would think that this would harden Levana, but you'll discover that there's still more to Levana than just an unrequited love affair. I found that a lot of the details and connections were predictable, but it didn't make me dislike the book. It just solidified how well I know the stories.

Do I like Levana any more than I did in the previous three books? I'm not saying that I completely hated her in the other books because she's a much needed foil, but I don't think this book changed my opinion of her. At this point, Levana is meant to be an unlikeable character, but that's why I like her as a character. Because of this book, I do understand Levana's history a lot better, which is what I think Meyer was going for with this book.